Lady Vaqueros Lose to the Other Vaqueros
Glendale Community College Women's Tennis lost 9-0 to Santa Barbara Community College on Thursday.
In an interview with Coach Bob Donaghy before the match he said that tennis is a "combination of boxing and chess." He spoke about how his team was in a tough conference, and that his coaching philosophy is to "work hard, be prepared."
To prepare for the match Donaghy said that his players "practice three days a week," and then "after practice go down to the fitness center for an hour." For the match against Santa Barbara he said that the amount of players on the team "went from nine to six, and I am nervous."
The competition began with singles, and when that was completed the players moved onto doubles. Throughout the match the players battled hard and did not give up when they were down. They did not let their emotions show, and they exuded sportsmanship for the duration
of match.
During the match any onlooker could see Assistant Coach Deo Sy running from court to court talking to the players. Sy said he was making sure that the players were "trying to stay positive," and he told the players to "make sure your opponent earns the point."
Afterward the players did not hang their heads low, but instead congratulated their opponents and felt good about giving their all. Any GCC Women's Tennis fan could see how they work together on the court. Though the sport is competitive the players do enjoy what they do, Sevana Zargarian said "It's fun yeah, it's just doubles is more intense."
The players on the Women's Tennis team know they will face challenging teams, but they enjoy it.
"We do much better when we play with schools like this," Zargarian said.
There was obvious sportsmanship from both teams during the match. The players give high-fives whether or not they win the point.
Samantha Sismundo said "high-fiving is what keeps us up," and Zargarian said that "it's really important to communicate in doubles."
Zargarian and Sismundo have aspirations of transferring to the University of California Irvine. Since they have practice three days a week balancing school and tennis can be difficult, "its tough" Sismundo said.
When talking about what went wrong and how they were going to prepare for Tuesday's match against Bakersfield College, Sismundo said "we all need to work on our weaknesses," and Zargarian said they have to be persistent in "preparing for every single game." They will also be running the hill between the upper parking lot and the lower parking lot at GCC as usual.
Donaghy commented on the upcoming opponents at Bakersfield College, he said "Bakersfield isn't going to be as tough as Santa Barbara." He also said that losing only makes his team better. As his final comment Donaghy said "if you want to see how good you can get, you play the best."
About the Contributor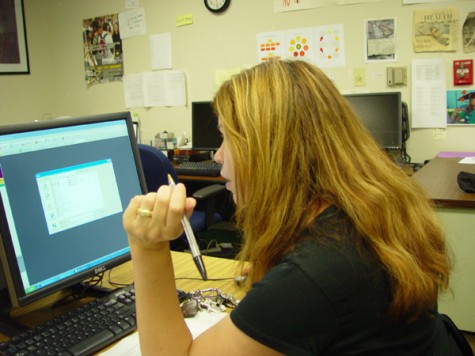 Jane Pojawa, production assistant
Jane Pojawa is a Southern California-based print media editor/writer who also dabbles in web design. Her passion is historical research and has served...