Glendale Golf Duo Denied Bid for State Berth
Glendale College's top two golfers, Nick Quintanilla and Brennan Amirkhizi, battled rigorous winds throughout the two 18-hole rounds that lasted from 7 a.m. to 6 p.m on May 10 at the SCGA course for the Southern California Regionals.
But this was only one of many reasons that the team fell short of making the state tournament.
Quintanilla, who is ranked as the top freshman in the Western State Conference and nominated Most Valuable Player on the team, finished with a score of 157 over the two rounds, placing him 49th at the event.
Amirkhizi, who was ranked eighth in the Western State Conference, carded a total score of 152 to place him 26th for the day.
"I just couldn't get enough birdies," Quintanilla said. "I wasn't hitting the ball as well as I did throughout the year and I was missing putts. I know I can play a lot better than that."
Glendale College's No. 1 golfer had a good reason to be frustrated. Quintanilla finished the day with one eagle, just four birdies and 14 pars.
Although his partner Amirkhizi hit the ball well during the first-round in the morning, he ran into some difficulty that would cost him some points.
On the 12th hole, Amirkhizi scored a double-bogey after hitting his ball into the water. He was later penalized two strokes on the 15th hole when he was unable to find a ball that he sliced to the left of the green. He ended the first 18-hole round with a five-over-par score of 77, scored 75 on the second round and finished the day with four birdies and 23 pars.
Despite performing poorly in the regionals and falling short of the State Tournament held at the Oak Valley Golf Club in Beaumont, Quintanilla and the rest of the team have their chins up for next season, and with good reason.
With Professional Golfers Association member and California Lutheran University Hall-of-Famer Greg Osbourne at the helm, it seems that there is nowhere to go but up for the young group of golfers. Even in the beginning of the season when it was evident that his players would fare very well, Osbourne had already planned for greater success next season.
"I've already recruited a couple of the top high school prospects," said Osbourne in the beginning of the season. "So you may think that we've done a good job recruiting talented players right now, but these guys are going to get even better, even more consistent. Add to that several more talented players, and you've got a team that can make it to State."
Quintanilla, who is the team's co-captain along with fellow freshman Bernard Leon, seems to agree with Osbourne.
"We had a tough ending, but I just see it as more experience to grow. We'll build more chemistry, get even better, and just be optimistic about next season," Quintanilla said.
When asked if he expects a better outcome next year, Glendale College's No. 1 golfer clearly reiterated his expectations.
"I'm going to make it to State next year," Quintanilla said. "And I plan to win."
About the Contributor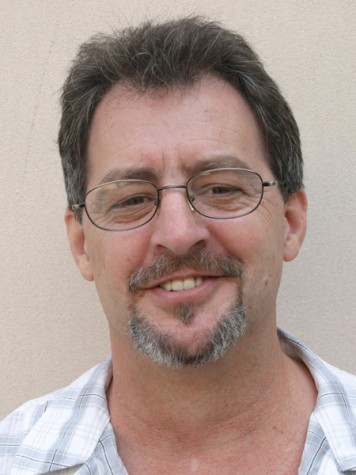 Richard Kontas, Production Assistant
Production Manager; Former Editor-in-Chief and Action Sports Photographer.