GCC 2023 Pulitzer Center Fellow Announced
Brittany Klintworth selected to represent campus
Glendale College's Pulitzer Consortium recently announced the second Campus Fellow, sophomore Brittany Klintworth, whose research will focus on the intersection of feminism and the garment industry.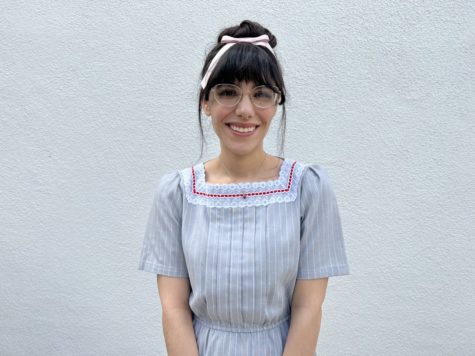 "Statistically, garment workers are predominantly women," Klintworth explained in a written interview to describe how she chose her topic. "In addition many of these women are women of color and low income. Most people usually link sustainability with the environment, myself included, so this was a revelation for me."
The garment industry is one that has a history of mistreatment towards its employees. Most of all garment workers are in the Asian-Pacific region. An article by Women's Wear Daily shared that "[…] the Asia-Pacific region employed roughly 65 million garment workers in 2019…that's 75 percent of all garment workers worldwide." Many of the women working in these factories are underpaid and the working conditions are subpar at best. The article went on further argue that "hiding behind hashtags and doling out donations downstream, when the garment workers who make the glamour possible upstream still don't earn a living wage, is an unsustainable business model for fashion to rest on." The garment industry, specifically fast fashion, is taking advantage of women of color to appease the American desire to have everything right away.
"Finding out that people are suffering because we have the privilege of being able to over consume clothing made me look at the issue of sustainability in fashion with a greater sense of urgency," said Klintworth. She went on to share a statistic about how wasteful Americans are when it comes to fashion, "I read this scholarly journal that stated that the average American throws away roughly 80 pounds of clothing and textiles yearly." Americans are a very large contributor in the demand for fast fashion.
"I collect vintage!" Klintworth shared, "I've acquired clothes, nightgowns, robes, purses, accessories, etc. I think the Twilight Zone television series influenced my love for vintage." Klintworth's love for vintage is a testament to her research, as it shows she tries to maintain sustainability in her own life where she can.
The Pulitzer Center has partnered with Glendale Community College, specifically the Journalism and History Department to create an educational experience reporting on topics centered around gender issues. "We are entering our third academic year as a partner with the Pulitzer Center Consortium." said Dr. Reut Cohen-Schorr, one of the program's co-founders at the College. "This program provides students an opportunity to hear from guest speakers, focus on a specific area concentrated on gender, and allows them to learn about reporting and research. We are currently the only community college on the West Coast that is a partner," she added.
"I would like to thank Dr. Reut Cohen-Schorr and Professor Michelle Stonis for the opportunity. I am so grateful to have taken their courses. I hope to make both of them and GCC proud," said Klintworth.
If you would like more information or have any questions about the Pulitzer Center Consortium visit: https://www.glendale.edu/academics/academic-divisions/social-sciences-division/history/pulitzer-center-campus-consortium
Simone Warren can be reached at [email protected].