The Spring Job Fair Was Back in Person For The First Time Since 2019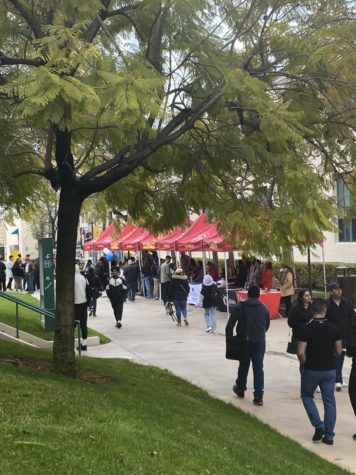 The annual spring job fair took place March 23, with roughly 100 to 150 people in attendance and over 50 companies wrapped around Plaza Vaquero on GCC's Verdugo campus from 10 a.m. to 2 p.m. The event was open to all and free to attend.
Brother and sister Jose and Jackie Cortes found out about the job fair with a Google search the morning of, at around 8 a.m., and decided to attend.
Jackie graduated from Cal State LA in May 2022 with a psychology degree. "As a recent student who just graduated, I want options, you know," shared Jackie, "and this is the perfect opportunity to find things that I wouldn't have thought of."
Jackie felt the most excited about the Pathways LA booth. She shared that the LA-based non-profit also emphasized creating awareness about the services they provide, regardless if attendees were applying for a position. "They gave me information of where to apply if I was interested," said Jackie. "So, I really enjoyed that booth, and I feel like I'm leaning towards that way."
Jackie's brother Jose was looking for hands-on jobs like an electrician. While he didn't find that specific job, Jose enjoyed talking to the firefighters at this event. "I like a lot of adrenaline, and that's – you know, it saves lives," shared Jose about the prospect of being a firefighter.
When asked about what she thought about the event, Jackie said, "Oh, I love it, I love it. I love the fact that it's open to anyone, and that's what I feel most comfortable about."
The job fair had booths from companies like Chick-fil-A, Center Theatre Group, Rolling Robots, AppleOne, law firms, camps, health services, and many more.
El Vaquero spoke to Jenifer Salazar from Forest Lawn. "So at Forest Lawn, we're a cemetery and mortuary organization with 13 locations in southern California," explained Salazar. "We are currently hiring entry-level positions for clerical, for administrative, maintenance, customer service, and so forth."
While it varies, most of the positions are full-time, and some hybrid options are available in certain departments, according to Salazar.
Salazar explained that people who didn't attend the job fair are still encouraged to visit their career page online. " You can apply on there [and] you can filter out by location and by type of position," said Salazar.
While Salazar believes that Forest Lawn has attended a GCC job fair before, this was her first time. "So far, it's been very exciting. We are meeting a lot of students, including high school students, so just trying to network and show our brand.
Sharis Davoodi, Programs and Services Specialist for GCC Career Services, shared during a Zoom interview on March 10 that "several local high schools will be bussed in as a field trip to attend and partake in this job fair."
The event was bustling with high school students, many dressed in their best, including lots of suits. While there was an array of attire worn at this event, one thing almost everyone had in common was the swag they were carrying around.
Booths were handing out tote bags, drawstring backpacks, pens, candy, and coffee. One table even had Krispy Kreme donuts.
El Vaquero also spoke to supervisors Alfredo Lima and Adriana Contreras of 360 Behavioral health. "Our company, we work with individuals with developmental disabilities…" explained Lima.
They have part and full-time positions for behavioral therapists, according to Lima. "We're looking for candidates that actually, you know, have the desire and passion to help others…," said Lima. "Also, if they're majoring in like child development, kinesiology, nursing, sociology, that would also help as well."
Those who didn't attend this event can still apply online and on indeed, according to Lima. Contreras added that they have referrals too. " Sometimes families will have referrals or friends, if they wanna bring somebody too they can," said Contreras. "So, if I had a friend who also wanted to work in this, I can bring them," she explained.
GCC students and alumni are encouraged to make an account on College Central to access a pool of job opportunities.
The spring job Fair was hosted by GCC Career Services, and sponsored by GCC CalWORKs, Davtyan Law Firm, and the radio stations Mega 96.3 FM and 97.9 Raza.
Stay up to date with all the offerings from GCC Career Services on their Instagram page https://www.instagram.com/gcccareer/
Brittany Klintworth can be reached at [email protected].