Come One, Come All! GCC's Spring Job Fair is Back In-Person
This event is open entry at no cost, and no registration is needed to attend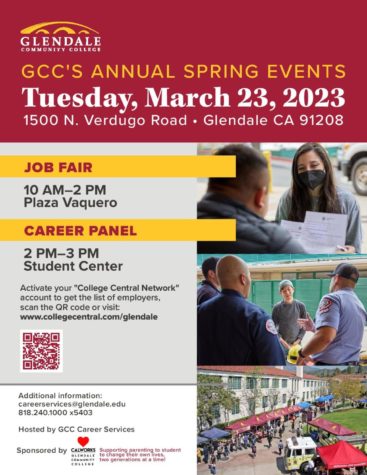 GCC students and community can visit the annual spring job fair in Plaza Vaquero on GCC's Verdugo campus from 10 a.m. to 2 p.m. on Thursday, March 23, to meet potential future employers.
"This job fair is free–at no cost," shared Sharis Davoodi, Programs and Services Specialist for GCC Career Services, during a Zoom interview. "We are open to everyone."
"We often have parents or siblings that join this job fair. Anyone that needs employment at this point in their life are welcome to attend," said Davoodi. "We also have worked very closely with GUSD for this upcoming job fair. Several local high schools will be bussed in as a field trip to attend and partake in this job fair. Most of them would be juniors and seniors in their local high schools who are enrolled in our current dual enrollment programs," she explained. "Specifically, those seniors who are looking for opportunities to work during summer and then transition into college, and this allows them to explore and experience what other college students are doing."
While this event welcomes all, GCC Career Services, the hosts of the event, arranged everything with the needs of its students at the forefront.
"We have a lot of students that are dedicated, and they're full-time, and we understand that education is a priority for them," Davoodi assured. "School comes first, and with that mindset, we still offer opportunities for them to work in our local businesses. Local industry partners offer opportunities to our students, our alumni, and our community members to work during summers."
Career Services is diligent with its employer selection process. "We hand-pick employers that are flexible with the schedules that they provide to our students," Davoodi explained. "Just because they get hired now, middle of semester with a certain schedule, it doesn't mean it's gonna be the same once comes fall, so employers that come to us … they are fully aware that students will need to have flexible schedules."
Davoodi explained that her office seeks to bring organizations with varying hours, not just a traditional 8 to 5 job. They try to include employers that are open on weekends, evenings, early mornings, and even include remote and hybrid opportunities to accommodate student and parent needs, according to Davoodi.
In addition to providing broad schedules, a variety of companies will be in attendance. "We try our best to make sure there is at least one or two companies from every single industry," said Davoodi. " We have over 80 companies that are registered at the moment."
While the spring job fair isn't the only job fair GCC does, it's one you certainly don't want to miss, she said. "We have several job fairs throughout the year," said Davoodi. "We try to host a seasonal job fair, Glendale tech week job fair, and this, our annual job fair that we've been hosting during the spring semesters for the past 22 years. Even during COVID, we still continued to host, and we kept it virtual that year." Davoodi continued, "We have mini information sessions throughout the year, but the big job fair where we have over 80 companies attending normally takes place during spring semester."
Dylan Andrade, a political science major, who is planning on graduating in June 2023, attended an FBI information session event earlier this year and found it to be a success for him. "I was able to get in contact with one of the special agents, and actually, I emailed her," shared Andrade. "She told me to keep her updated. I reached out, so it's great! So, just from that one event, it's done leaps and bounds for me, so in terms of the job fair, I'm pretty sure it could do the same for others."
Andrade explained why he'll be attending the job fair even though he has a job currently as a student assistant for GCC Career Services. Andrade likes to keep his options open and network. "I always search for opportunities, and I know that with 80 companies there – or 80+, and you know, with Sharis' networking as well, I know that it's gonna be a good opportunity," Shared Andrade. While he is interested in the FBI career field, he plans on keeping an eye out at the job fair for anything "in tangent with that, possibly that could possibly build my skill set towards that goal."
To help attendees prepare for the job fair, the Career Center will host a job fair preparedness workshop on Monday, March 20, on Zoom. Generally, workshops are only available for students, but "anyone is welcome to register to this job fair preparedness workshop," Davoodi said.
The job fair preparedness workshop is one of the many workshops offered by the Career Center. "We also offer ongoing resume workshops, interview workshops, Linkedin workshops, and job search workshops," said Davoodi. "These workshops are all year round in the Career Services department. Workshops are conducted by our amazing career counselors." Non-credit students can go to the Garfield campus's career center for these workshops, according to Davoodi.
"Our workshops are hosted virtually still, so it's really easy to access and register, again, at no cost," emphasized Davoodi. "I highly recommend students to take advantage of these amazing workshops, regardless if they're attending [the job fair] or not. Once they attend the workshop, they can have their resumes reviewed by the career counselors."
Andrade has taken advantage of the workshops offered by the Career Center and urges others to do the same. "I believe one of them was held by our counselor, Stephanie," recalled Andrade, and it was for resume building, and I have to say, that helped me get a job at Whole Foods," Andrade explained. "When I was first trying to get a job, before this one [Career Center] and it helped me build my resume, kinda orient myself, what should I put on there, what skills, what catches their eye, especially, in terms of what should you bold, what's more appealing to the eye in a sense – like aesthetically rather than in terms of information. So it does help. For example – that's just one example for a resume, but I have attended, and they are definitely useful, and I recommend that you take advantage of them. They're there! They're free!"
Immediately following the job fair, a career panel will be held at the student center from 2 p.m. to 3 p.m. "A few employers will be there to answer specific career-related questions, as far as selection process, application process, and answer specific questions as to what they are looking for in candidates and assist students with any type of questions that they have," explained Davoodi. "There will be organizations both from non-profit and profit sectors." She also shared that companies from Pasadena, Burbank, La Crescenta, La Cañada, and Glendale will be coming.
Davoodi took a moment to share why so many different cities attend the GCC job fair. "I take personally pride in the quality of our students at GCC. We have Amazing students, and our education level is known in the industry," explained Davoodi. "Companies know that once they hire a GCC student, they're gonna perform, and they come with vast knowledge, and the hands-on training is super important for both students and community partners. Therefore it's a win-win situation for both. GCC is the bridge for success in our community, and companies are looking to fill the gap by partnering with the education industry."
Davoodi shared how fulfilling it was to have companies return to the GCC job fair after the pandemic. "The challenge we faced a little bit this year was that a lot of organization reps had changed. Some local companies were forced to close down due to COVID," she shared. "However, as soon as they found out that we had the job fair up, they reached out, and they are coming. So that was a huge satisfaction to me, and you know GCC, I think, knowing that whatever we're doing, we're gonna keep doing because it's working, they wanna come back to hire you!"
Some tips Davoodi shared to make the best impression are: attend their career workshops, arrive early and dress to impress, bring updated copies of your resume, review the list of companies attending, and "don't forget to wear your smile."
There's another reason attendees should dress to impress. A photo booth will be at the job fair for people to take headshots for their Linkedin profiles, according to Davoodi.
GCC has a job placement center website, College Central. Davoodi stressed the importance of students utilizing this resource. "That's how we continue to send out information for all these workshops–all the future events that take place here." It takes less than 10 minutes, and once the free account is activated, a list of companies and their websites will be available, and over 100 podcasts will be available, according to Davoodi.
A bonus of the College Central job board is "you can narrow it down to your own radius," explained Davoodi. "And you can post your resume for companies to search for you, so that's the highlight of the online job board where let's say if you can only work 5 miles around your house. If you have children, if you have elderly to take care of, or any other barriers. Whether it's transportation, or disability, or anything else. Some people have specific–they'd rather work remote, or in-person, or only within certain zip codes. Then they can narrow down their searches." Davoodi reassured, "they are monitored by us [the career center] so that there aren't fraudulent employers looking for your personal information. So most definitely we monitor who posts and if those jobs are truly in alignment with our educational pathways."
Another perk of the college's central job board is the vast pool of jobs. "Because we're part of [the Los Angeles Regional] consortium, any organization that posts to any other college can also post to GCC students," according to Davoodi.
The address for the Verdugo campus where the job fair and career panel will take place is 1500 N. Verdugo Road, Glendale, CA 91208. Free parking will be available in Lots B and C.
This event is sponsored by: GCC CalWORKs, Davtyan Law Firm, and the radio stations Mega 96.3 FM and 97.9 Raza.
"Once you enter the career center right now, you're gonna get the feeling of how excited we are, how pumped we are," beamed Davoodi. "It's all over social media, it's all over city of Glendale, Burbank, Pasadena. We have been known for many years, this is our 22nd year. Personally, I've been part of 8 years, this would be my 8th job fair for GCC. And we just keep getting bigger and better every time."
Additional information on this event can be found at Glendale.edu/jobfair or by contacting GCC Career Services at [email protected] or 818-240-1000 Ext. 5403.
Stay up to date with all the offerings from GCC Career Services on their Instagram page https://www.instagram.com/gcccareer/
Brittany Klintworth can be reached at [email protected].