How Emotion and Motivation Impact Public Understanding of Science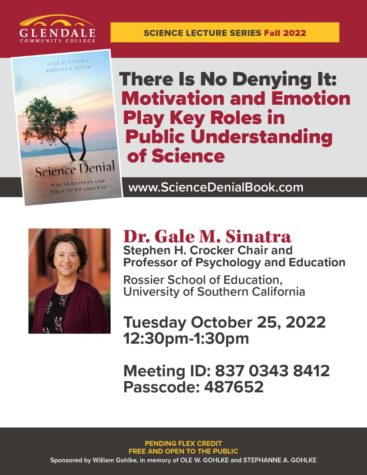 Speaking to 40 students, staff and faculty, Dr. Gale M. Sinatra and her co-author Barbara Hofer held a virtual event entitled "There is No Denying It: Motivation and Emotion Play Key Roles in Public Understanding of Science" on Oct. 25 from 12:30 to 1:30 p.m. Sinatra and Barbara Hofer spoke regarding research from their book, "Science Denial: Why It Happens and What to Do About It."
The event was organized by GCC faculty member Nare Garibyan. During the event, Sinatra and Hofer examined the psychological factors that contribute to science, doubt, resistance, and denial. Dr. Sinatra emphasized the importance of making decisions based on facts and not on emotions. Sinatra explained that we should trust the science that relies on empirical evidence, which is evidence that is carefully analyzed and collected.
In an example, Sinatra said social media now causes an erosion of trust in expertise, as people are more likely to believe peers over experts. Fact checking information is crucial for accuracy, she said. Sinatra also covered thinking and reasoning biases, epistemic cognition, and motivated reasoning. Key Factors in her book covered social identity, mental shortcuts, epistemic cognition, and motivated reasoning.
Experiments to facilitate Dr. Sinatra's findings are being held at the La Brea Tar Pits Museum. Two augmented reality systems were built at the La Brea tar pits that showed how to leverage emotion and motivation. For example, participants in the AR see an entrapment scene where life size saber-tooth cats, dire wolves, and mammoths walk past them. The participants see first hand how animals and plants get stuck in the tar. A typical interactive poster is less compelling, as a person will read for 20 to 90 seconds compared to an AR experience that will last for 12 minutes. This experiment seeks to show if AR participants report more interest and stronger emotions.
Dr. Sinatra is a professor of Psychology at the University of Southern California where she leads the Moviated Change Research Lab. She is a member of the National Academy of Education and has been recognized by the American Educational Research Association for achievements in research with the Sylvia Scribner Award. Dr. Barbara Hofer is a professor of Psychology at Middlebury college and a cultural psychologist.
Sarah Klubov can be reached at [email protected].