Making the Most of the Learning Center
One of the myriad resources GCC's Learning Center offers is free 24/7 tutoring options to help GCC students excel, with the choice of in-person, online, or remote. El Vaquero explored these resources.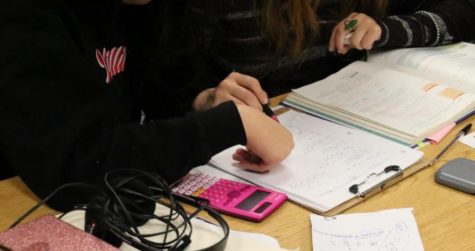 "Tutoring is effective studying, so tutoring is useful for all students," Shant Shahoian, a faculty coordinator for the Learning Center said. "Some think that tutoring is only beneficial when you are struggling." "We had a student with a 98% in organic chemistry visit our organic chemistry tutor, saying, 'I can't find a better study partner anywhere!' We also have students struggling come in, of course, but everyone benefits from having a great study partner."
Students with busy lives need options.
A round-the-clock tutoring option is available courtesy of SmartThinking. SmartThinking is a Pearson resource and can be accessed through Canvas by selecting the "Free Online Tutoring" option on the left side. However, it should be noted that specific subjects are only available during peak hours. SmartThinking has a schedule available on the student's Smarthinking account that details when topics are available for tutoring. With this resource, students are granted eight hours of online tutoring per semester If more hours are needed, students can email Shant Shahoian: at [email protected].
Shahoian described how tutoring can help students be productive. "Tutoring saves time," Shahoian said. "Staring at a math problem or an empty word document for hours, praying for inspiration or a lightning bolt to strike, is time wasted. Working with a tutor can help you move through your studies more efficiently."
Live tutoring is also an option through the Student Center. Currently, the Student Center's hours for the Fall 2022 semester are Monday through Thursday from 8 a.m. to 4 p.m. and Friday from 8 a.m. to 2 p.m. These hours are subject to change. Students may drop in and try to get a slot, but the best way to guarantee a tutoring slot is to make an appointment.
The theme of The Learning Center is accessibility, from how students can receive tutoring to how they can make an appointment. Students can make an appointment one of three ways. The first option is in person (masks are currently required inside any GCC buildings) at the Learning Center, in AD room 232. Another option is online through Canvas by selecting the "Free Online Tutoring" option on the left side, the same as accessing the SmartThinking feature. The final option is to call the Learning Center. If calling, the student must leave the following information: name, student ID number, days and times that are preferable for the appointment, the name of the class you want tutoring for, and a phone number for them to call back to confirm the appointment. These appointments last for 30 minutes. Similar to SmartThinking, there are some limitations. Students are allocated two appointments per class each week, and on different days. The Learning Center is also available for students to come in to study.
Amongst the varied resources the Learning Center offers, students can make one-hour appointments to use Grammarly premium for free. This freebie is obtainable through the "Free Online Tutoring" tab on the left side of Canvas, or by reaching out directly to a Learning Center staff member. Additionally, multiple workshops are offered for the Fall 2022 semester. Some professors will even offer extra credit if students attend specific workshops.
Ultimately, students should navigate the college's main page. The "student resources" section on the Learning Center page includes links to free resources. For more information, go to: https://www.glendale.edu/students/student-services/learning-center-tutoring/resources/student-resources
"Truly educated students know to use all the tools at their disposal," said Shahoian. "Ultimately, critical thinking is resourcefulness, drawing on all the information, all the angles, and yes, all the tools available, to arrive at the best possible answers and outcomes. Some GCC students learned this secret: Use all the resources available to you to maximize your success. But all GCC students should know this secret."
The Learning Center can be reached at (818)-240-1000 ext. 5333.
Brittany Klintworth can be reached at [email protected].