Distinguished Faculty Award to Honor Fabiola Torres
Presentation scheduled for March 29 via Zoom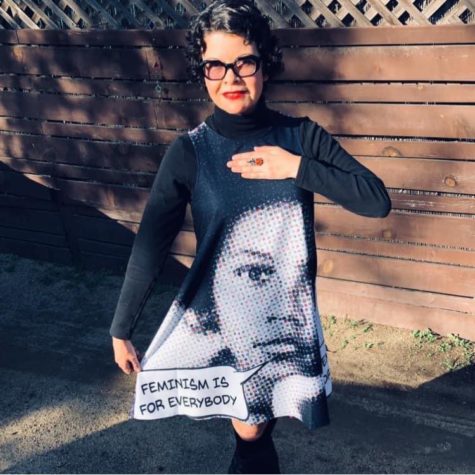 This year's Leonard DeGrassi Distinguished Faculty Award (DFA) presentation is scheduled for Tuesday, March 29, from 12:20 to 1:30 PM via Zoom.
The recipient is Fabiola Torres, Instructor of Ethnic Studies. The title of her presentation is: "Before 'Equity' was trendy, there was bell hooks – Feminist, Activist, Radical Scholar." Fabi will create a space to honor bell hooks and recognize her early contributions to equity-minded practices. She will survey her publications that inspired many of us to challenge patriarchy, white supremacy, and capitalism while igniting our purpose to teach. To honor bell hooks, Fabi will encourage faculty to share how bell hooks gave us the courage to love, heal, and teach.
Fabiola Torres is a full-time Ethnic Studies instructor, a self-proclaimed "good trouble maker" and Academic Chola who takes her hoops off to challenge injustice. During the pandemic, Fabi collaborated with a number of colleges throughout the country offering professional development workshops, keynote presentations, and publications focusing on applying equity-minded methods such as culturally responsive teaching in the online environment, humanizing online teaching and learning, and Ungrading practices. Her teaching principles are inspired by her M.A. in Chicana/o Studies from California State University, Northridge & her second M.A. in Learning Technology from Pepperdine's School of Education and Psychology. Yet her scholastic voice was found at LAVC. She was a featured faculty at InstructureCon 2019 for her humanizing online methods in Canvas (LMS) and was awarded the Online Learning Consortium Advocate Award for Diversity and Inclusion in July of 2020. Her professional partnerships include @ONE, PUENTE, Bakersfield Community College Mobile Calculus Course design team, and a proud family member of the #UnGrading community.
Two Mexican Immigrants gave birth to Fabiola Torres in the French Hospital at Chinatown in Los Angeles, California, USA. Fabi is a fur-mommy of Luke, Leia, and Wookie. She doesn't like long walks on the beach but loves good beer, great company, the LA Dodgers, and cooking gadgets.
The DFA Committee invites all Faculty and Staff to attend Fabi's presentation on Zoom. The link is below.
Topic: Distinguished Faculty Award Lecture – Fabiola Torres
Time: Mar 29, 2022 12:20 PM Pacific Time (US and Canada)
Join Zoom Meeting
https://glendale-edu.zoom.us/j/91505011477