Chancellor Eloy Ortiz Oakley Speaks on Topics Affecting California Community Colleges During Student Media Teleconference
Virtual teleconference covers updates and changes for community college campuses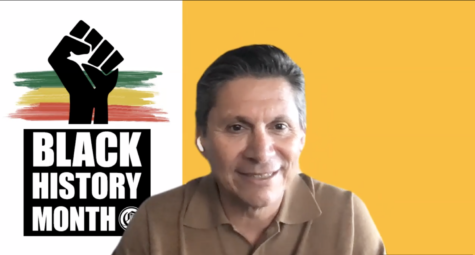 A new study that has emerged from the California Community College system shows the financial benefits of attending community college. "We found that for every dollar invested in the California community college system, students gain $5 in future earnings," said California Community Colleges Chancellor Eloy Ortiz Oakley when describing a finding in the recently published report, "The Economic Value of the California Community College System." On Feb. 22, the California Community Colleges Chancellor's Office hosted their first virtual media teleconference of the spring semester for student reporters. With approximately 33 people in attendance, Oakley provided a number of updates relating to the community college system.
The report that Chancellor Oakley referred to was published in January, and it outlined the contributions California's community colleges make to the students, economy, and state. When discussing the benefits of community colleges, he stated, "… we need to continue to echo that message that every time a taxpayer invests in the California community college, they see a significant return in the amount of earnings that the students will have and the impact that has on the local economy."
Highlighting the value of earning an associate degree through community college, Oakley stated, "The report also showed that the average student that earns an associate degree will see an increase of at least $11,000 … compared to those going into the workforce with just a high school diploma."
Calling attention to the impact community colleges have on the economy and community, Oakley explained, "One out of every 16 jobs in California is supported by activities of our colleges and their students." In discussing the economic contributions of students who graduated through the community college system, he further went on to say, "Our alumni generated nearly $110 billion in added income for the state's economy, which is equivalent to supporting 1.3 million jobs."
Despite these contributions, Chancellor Oakley informed the student reporters that community colleges, like other higher education institutions, have been experiencing a decline in student enrollment. However, the California Community Colleges Chancellor's Office is continuing to work toward supporting the students and providing opportunities for them to reach their academic goals in higher education.
With regard to financial aid, he further noted that March 2 is an important deadline for students to submit their financial aid applications. To emphasize the importance of completing this application, Oakley said, "… many types of aid, things like scholarships, … rely on the FAFSA and the California Dream Act application to be submitted for them to be considered for those scholarships." Additionally, Chancellor Oakley explained that changes have been made to the eligibility requirements of the Cal Grant system to help more students access financial aid.
Chancellor Oakley also detailed some of the programs at community colleges that will help students reach their academic goals. "Our colleges are beginning to use prior learning assessments, which are free, and they are using them to evaluate students' knowledge gained from qualified prior experience to determine the credit that can be provided," Oakley said. He mentioned various examples of prior learning, including but not limited to military service, internships, work experience, and volunteer work, that could help students earn credit.
"This year, we also expanded the number of four-year universities participating in Associate Degree for Transfer," Oakley said. Explaining the Associate Degree for Transfer, or ADT, Oakley stated, "The Associate Degree for Transfer … allows students to start at a California community college and then transfer to a guaranteed safe spot at a participating four-year university during your bachelor's degree. In addition to the California State University system, HBCUs, private non-profit universities, and now the University of Maryland Global Campus will be accepting the California community college transfer students through the ADT."
With continuous efforts to provide a multitude of options for students to engage in higher education, Chancellor Oakley also discussed the implementation of late start classes in community colleges so that students could continue to enroll with more options. Late start classes begin after most other classes in a given semester. "These are courses that are full credit courses, and most are scheduled to start between late February and early March," Oakley said.
In moving forward, Chancellor Oakley expressed, " … we're hoping that the further we get beyond the Omicron variant, the more that we can begin to re-engage students directly in person and get people back to some sense of on campus normalcy."
To learn more about the topics discussed, including but not limited to the Associate Degree for Transfer, prior learning, and late start classes, visit:
https://icangotocollege.com/
To learn more about available resources and services, visit:
https://icangotocollege.com/resources
To learn more about information regarding financial aid deadlines and how to complete the application, visit:
https://icangotocollege.com/financial-aid
To access "The Economic Value of the California Community College System" report, visit:
https://assets.cccco.edu/share/51B197C8-519B-49FD-BCAEFE10781A2B0D/?mediaId=11A71E97-C56A-4E3D-8F62C88E51A719B9
For more information about transferring, visit:
https://icangotocollege.com/transfer-tool
Jacqueline Kamei can be reached at [email protected]