Skepticism Mounts Over Grayson Repowering Plan
The Grayson Repowering Plan, spearheaded by Glendale Water & Power, appears to be in dire straits after the Oct. 16 meeting at Glendale City Hall. The special meeting was held so the Draft Environmental Impact Report (DEIR), prepared by Stantec Consulting Services, could be presented, analyzed and debated in an open forum area, in which time was left for public comment at the end.
Stantec's most notable major project was its involvement in the development and maintenance of the Keystone Pipeline.
With the Grayson Repowering Plan, GWP is seeking to decommission eight aging gas-fired generation units, and replace them with ones that they claim will be more efficient and reliable.
GWP suggests that this will give the Grayson Plant an additional 43 megawatts of power generation. To get those MW numbers, GWP is going off of the nameplate capacity of the older units. However, official GWP documents show generators aren't operating at nameplate. Using actual generating capacity, the Grayson Repowering Plan would give the plant an additional 77 MWs, which doesn't include the energy received from Scholl Canyon.
The 106-person capacity room in the Glendale City Council Chambers was filled to the brim, with many community members standing towards the rear of the chambers. Concerned local residents wore green shirts and carried signs in favor of clean-energy alternatives.
"We want clean energy," one sign said. Another read, "Needed: An Unbiased Study."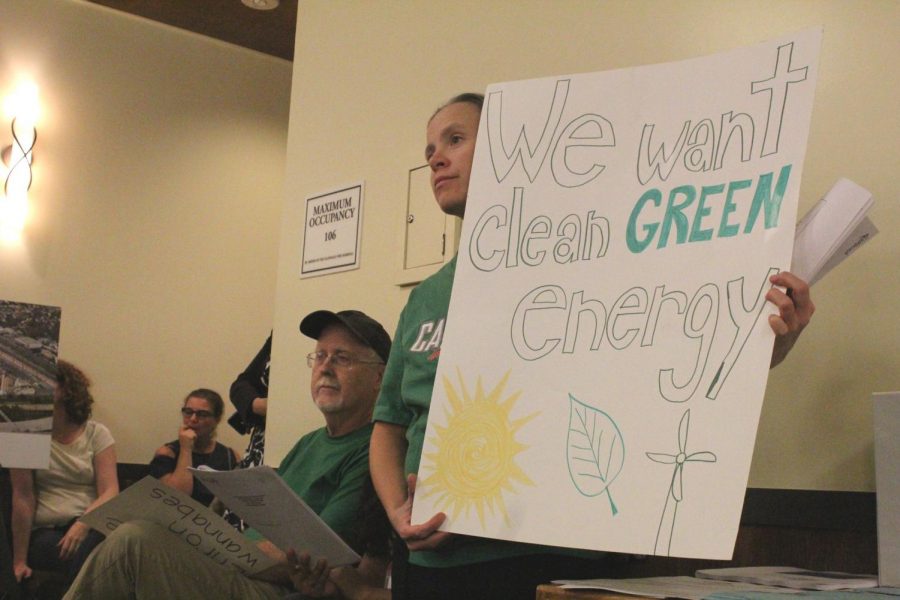 The nearly two-hour-long presentation by Stantec in front of the five-person GWP Commission, which acts as an advisory body to GWP, gave a summary on the projected impacts of the Grayson plan.
The DEIR analyzed aspects such as aesthetics, air quality, greenhouse gas emissions, and hazardous materials.
The report found that all projected impacts would be "less than significant," although some mitigation measures would be required.
The report states that there would be a significant net increase in greenhouse gas emissions from the project, totaling roughly 415,000 metric tons per year. The increase would be mitigated by acquiring allowances and offset credits through California's cap-and-trade program. Criteria pollutants (such as lead, carbon monoxide and sulfur monoxide) would also increase, a major concern since the surrounding area is densely populated and contains a handful of schools within a mile of the plant.
"Would you want to send your kids to school a half-a-mile away from a plant like this?" asked local resident Elizabeth Vitanza, directing her question towards the Stantec employees.
Critics of the proposed $500 million Grayson plan have a laundry list of grievances. Most notably, is that Stantec failed to conduct an in-depth study into clean-energy alternatives.
"I do not believe that we looked at how much renewable power could be generated on sites within the city that the city has control over," said Stantec employee Michael Weber when questioned by GWP Commissioner Matthew Hale.
This comes at a time when California is looking towards getting more of its power from clean-energy sources, and pivoting away from natural gas and other fossil fuels.
With this in mind, many question why such a heavy investment into a large natural gas project, and whether GWP intends to sell off the excess power they generate to pay for the plant upgrades.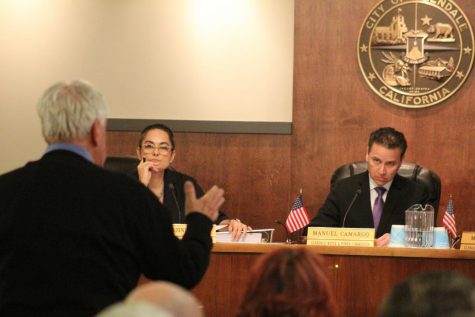 "Is that the case?" said Commissioner Sarojini Lall. "Are we basically building a power plant where we're going to be selling a portion of the power to pay for it [the plant]?"
"No … well conceivably you could," said GWP General Manager Steve Zurn. " … We don't have any intentions of being a 'merchant plant.'"
As regulations on the use of natural gas become stricter, Glendale and resident taxpayers may be left with a gas-fired power plant that has been left behind by the future of energy – a stranded asset.
"There is a concern about what risk does this expose the City to if our relationship with fossil fuels is profoundly changing in the future?" said Lall.
Zurn responded by saying that Grayson and GWP will be ready to meet whatever the California greenhouse gas mandate may be, but that "there is a chance that [the plant becoming a stranded asset] may occur."
Another concern shared by residents is that the plant is located in an earthquake liquefaction zone. Meaning that when – not if – the "big one" hits, the soil in which the plant lies on will be stressed to the point that it takes on the qualities of liquid. Grayson survived a 6.6 magnitude earthquake in 1971, but many experts predict that the next San Andreas fault quake would hover around the 8.2 magnitude mark – 152 times stronger than '71.
Overall, the Commission appeared to be on the same page, that the DEIR did not look enough into clean-energy alternatives, and that public opposition and concerns need to be accounted for. "We are lacking in diversity in our resource pool, and that needs to be considered," said Hale.
Another commissioner echoed his agreement. "To limit ourselves and continue down this path of solely gas powered, I don't see that as the right path," said Commissioner Roland Kedikian in his final comment.
Public comments can be submitted throughout the 45-day public review period, which ends at 5 p.m. on Nov. 3.