At GCC, Black Minds Matter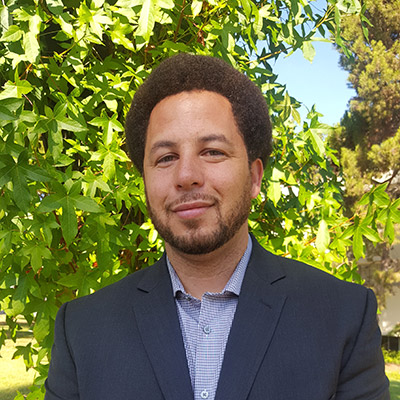 Glendale Community College's Social Sciences Division and Student Equity Program has embarked on a eight-part public live-streamed course from Dr. J. Luke Wood, a distinguished professor of education at San Diego State University.
Wood's free course examines the issues that black males face in society, particularly through the lens of education.
Dr. Wood, whose research has been featured by the White House Initiative on Educational Excellence for African Americans, New York Times, Huffington Post, and other countless media outlets and publications, spoke to El Vaquero via email about the inspiration for creating the course.
"We will be employing three tenants [loving engagement, collective value, and restorative justice] of the Black Lives Matter movement as a framework for talking about the issues facing black boys and men," said Woods, highlighting the purpose of the course. "Ultimately, our goal is for educators to begin to see their classrooms, offices and campuses as sites for civil resistance," he continued.
Civil resistance in education referring to "teaching practices that empower those affected." The hope is that educators will be able to use the primary tool they have to "dispel and address policies and practices that result in overexposure to exclusionary discipline," said Wood.
GCC sociology instructor Sandy Somo can be charged with igniting the initiative to bring the didactic course to our campus. "[Sandy] puts students first" said Social Sciences division chair and psychology professor Michael Dulay, as he elaborated on the process of ensuring the course's implementation at GCC. He also touched on personal testaments to growing up at a disadvantage and noticing "a clear difference in class and race."
The only prerequisite required is to "acknowledge one's own unconscious bias," said site coordinator Darielle Blevins "We are all raised and socialized in this society that is ridden with sexism […] and racism, and are programmed to think a certain way." Faculty are encouraged to attend and to be honest with themselves. "You get a better understanding of inequality. Many educators get a glimpse of inequality, but don't get the full psychological impact," added Dulay.
A syllabus is available at bit.ly/JLukeWood. The second week of the course will be held Oct. 30. You can register at bit.ly/BlackMindsMatterWk2.
What was the impetus for creating this course?
The course was inspired by two different factors. First, in 2015, the Education Trust West released a report titled Black Minds Matter. This report documented the experiences and outcomes facing black learners in the State of California. The report has led to numerous discussions, symposia, and keynotes focused on the topic.
The report served as an impetus for this course. Second, the course was also inspired by the slaying of Alfred Olango in San Diego, Calif. (El Cajon). Alfred was a black male refugee who was shot [though he was] unarmed by police.
This led to numerous marches and protests in San Diego.
The students in our program were heavily involved in this direct action, and this course emanated from discussions with them on how the patterns the [sic] led to his slaying are also evident in education.
Why now and how long have you been teaching this course?
This course is groundbreaking in that we are not studying Black Lives Matter as a movement. Though, that would be an important aim in and of itself.
However, what we are doing is taking principles of practices (based on their tenets) and showing how these principles can serve to improve the educational outcomes of black boys and men in education.
This is the first time we have offered this course, so we are excited about the potential and the scope. Right now, there are over 180 broadcast sites for the course and over 10,000 people who are registered to participate.
How have black men been at a disadvantage in education? What are the implications?
Disparities facing black boys and men begins early on in their lives, in early childhood education, if not sooner. We know that they are more likely to be perceived through a criminalized lens and to be viewed as academically inferior. These patterns continue throughout the lives of black males, influencing their experiences and outcomes in the criminal (in)justice system, education, health care, industry, and numerous other sectors.
Are black men still at a disadvantage in the academy?
Black men do face challenges in the academy. They are brilliant, resilient and good-hearted, but often not viewed as such. The challenge begins with a society that has socialized all individuals to see them with distrust, disdain, and disregard.
Educators who engage in training on unconscious bias, micro aggressions, and culturally-relevant teaching practices can change this paradigm.
In education, a civil resistance refers to teaching practices that empowers those who have been disaffected. Empowerment through love. It may seem simple, but thwarting socialization is never simple or easy.
Of the different parts of the series, is there one area that
especially interests you?
Well, I am partial to all of the topics that we will explore. But, if I had to pick one that I am excited to talk about, it is our research on teaching practices. We have identified, through a number of studies, teaching practices that can better support the success of boys and men of color. I think the ability to be able to share these practices with a large audience is exciting.
Our goal is to improve the conditions that we see, and these practices can certainly help that aim. One example of a teaching practice that we suggest is intrusiveness.
For instance, our research shows that if you want students to be successful you have to approach your work differently.
If a teacher or professor knows that the only students who pass their class are those who attend their office hours, do multiple drafts of papers, and visit tutoring – then those practices should be mandatory not optional.
Why? Because students from minoritized communities face numerous external challenges that often influence their ability to engage and focus in school. Making something mandatory signals its importance but it also create a structure that ensures that students will be successful.
What is your overall hope for this eight-part series?
My hope is that those who are participating will begin to radically reconsider their role in education.
Ultimately, our message is about integrating love into a curriculum that communiqués subjugation and asymmetries of power.
Most educators are not bad people, but most educators are influenced by biases. But here is the thing, being biased does not make you bad, it makes you human.
Choosing not to change that inclination is what is bad.
So, ultimately, it is about internal change that will better enhance the learning, development, and success of black boys and men.