Puerto Ricans on the Road to Recovery
Puerto Rico is desperate. Twenty one days ago the island became well aware and prepared for the uninvited visit from Maria. Hurricane Maria, it is.
It was Sept. 20, when Puerto Ricans hid and prayed for their lives as the dangerous Hurricane plowed across the country. It inflicted an extremely disastrous combination of destructive winds, substantial amount of rainfall and coastal inundation from surging ocean water.
The storm quickly opened way for a humanitarian crisis as food and water ran low, fuel resources were nowhere to be found. Worst part of this; very little outside help was offered.
Every day that passed, we saw the horrific conditions on ground. From desperate mothers begging for water for their children, to the sick and injured being turned away from barely functioning hospitals.
At least 34 were confirmed dead. Many journalists and authorities became skeptical of this number, which led the start of a further investigation.
Omaya Sosa Pascual, a reporter with the Center for Investigative Journalism in San Jose was among those to look into the issue. What she did was call all 69 operating hospitals around the country talking to many professionals and doctors, asking them about deaths related to the hurricane. Pascual's doubts came true as she realized that that the number of deaths were immensely higher than those reported.
So why is the Puerto Rican government so slow to report and document the deaths? The answer to that was simple: The island is in a chaotic situation, the death certificates are not being issued, which means they are not being officially filed.
"Everything in the government has collapsed, not being able to document it, doesn't mean it's not happening," Pascual commented on the situation.
A forecaster at the National Hurricane Center, Eric Blake tweeted that Maria is the third hurricane in its Category of 4 to hit the U.S. in the same season. The first two being Harvey and Irma.
There was only one thing setting Maria aside from the other two: attention.
As always, the media and government agencies have been greatly distracted by 'fad news' to the point where what actually matters, is being rather neglected and swept under the carpet.
President Donald Trump visited Puerto Rico last Tuesday to tour the hurricane devastation. Instead of offering a solution, he yet again sarcastically expressed his concern in regards to the downfalls Puerto Rico has caused the United States' economy.
"I hate to tell you, Puerto Rico, but you've thrown our budget a little out of whack because we've spent a lot of money on Puerto Rico," Trump said in a meeting with local officials from the island, which declared a form of bankruptcy in May. "And that's fine."
He went to further discuss the situation, as he sarcastically showed his 'pride' for all the people who worked together to save lives.
"You can be very proud of all of your people, all of our people," Trump told Gov. Ricardo Rosselló. "Sixteen versus literally thousands of people. You can be very proud. Everybody around this table and everybody watching can be very proud of what's taken place in Puerto Rico."
As obviously shown, the Puerto Rican disaster brought lots of controversy to the table as many realized that there was not much rescue effort taking place.
About two weeks after the hurricane divided the island in half, aid has started settling in. Some governments, including those of Mexico and the U.S. which have sent massive loads of food, water, sanitary items and blankets.
Celebrities such as Jennifer Lopez, Marc Anthony, Ricky Martin, Gina Rodriguez and many more, have joined forces to help reconcile the island.
Websites such as hispanicfederation.org, unitedforpuertorico.com have also been launched, through which people can donate to support the recovery.
"Lives have been lost. Power is down across the entire island," Lopez said in a social media release. "More than 15,000 people have been forced into shelters, and the storm has devastated the lives of thousands of others."
About the Contributor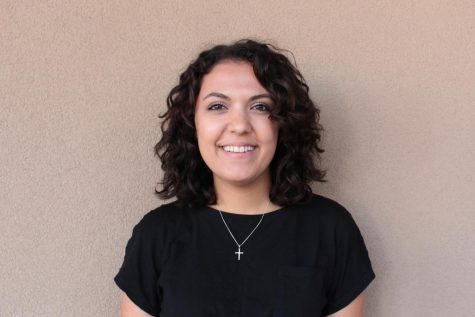 Marian Sahakyan, Editor-in-Chief
Growing up in a big family of journalists and writers, Marian developed her love for writing and reporting since early childhood. She is often found in...