GCC Featured in Tech Week
Glendale Community College's Robotics Club and engineering department is being featured at Glendale Tech Week, which runs from Oct. 9 to Oct. 13 throughout the city of Glendale and surrounding areas.
The Robotics Club at Glendale will have their own booth on Tuesday, Oct. 10 during the Montrose Tech Walk from 3 to 7 p.m., where students will give talks and present student-built robots, drones and other projects.
On Wednesday Oct. 11, GCC members can be found at the Oktoberfest at the Maryland Paseo, from six to 10 p.m. The following day, Glendale College will be participating at the Innovation Market at the Americana from noon to 2 p.m.
"We want to raise awareness about engineering, not just on campus but in general," said Scarlet Galvez, who is a sophomore mechanical engineering major at GCC and a member of the Society of Hispanic Professional Engineers.
SHPE's mission is to serve as role models and to empower those in the Hispanic community in regards to STEM awareness, which is what fellow engineering student Enrique Cernas-Aguilar try to help accomplish, too.
"Latino students specifically don't feel the connection to STEM," said Cernas-Aguilar, a mechanical engineering major in his second year. "Almost everyday I talk to those students about opportunities that are available."
Indeed, the opportunities are there. The engineering and other STEM professors have real-world experience, connections, and do their best to get students into internship programs, including local, highly-coveted places like the Jet Propulsion Laboratory and with NASA.
Glendale Tech Week is hosted around downtown Glendale, including venues like the Alex Theatre, historic Central Library, and the Maryland Paseo. The event is meant to highlight the booming technology sector of the Glendale area. This year's theme is called "A Start Up Journey."
The events at Glendale Tech Week include expert panels, featuring CEOs and executives from some of the top local tech businesses; live demonstrations, like one incorporating Computer Numerically Controlled (CNC) machinery, the same technology used in 3-D printing; speed networking with those in the industry, such as venture capitalists and angel investors; "Pitchfest," where 10 promising companies compete in hopes of convincing judges to award them a $20,000 grand prize; and much more.
This is the second iteration of Glendale's Tech Week. Last year's turnout topped over 1,000 people.
About the Contributor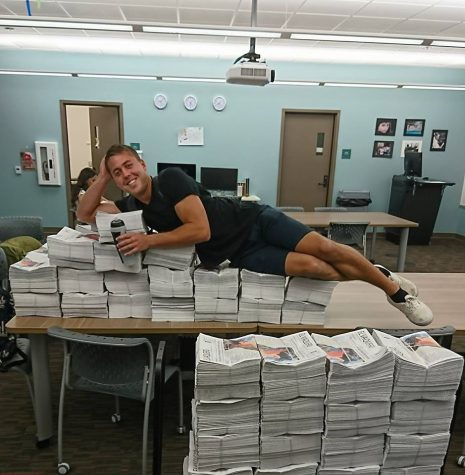 Ken Allard, Editor-in-Chief
Ken Allard is a Los Angeles native and is in his fourth year at Glendale Community College. He enjoys covering hard news, politics, feature stories, sports,...