Shredding to Success: Skaters Rise and Ride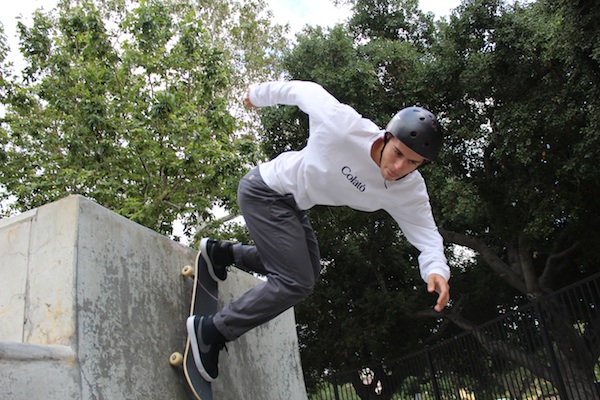 It's been a long time since the likes of Stacy Peralta and Tony Alva were crowned Dogtown royalty, but the the art and profession of skateboarding has only picked up speed.
Since their rise of popularity in the '50s skaters have been treated as residents of the island of misfit toys, but much like the determination of skaters themselves, the enthusiasm for the culture has stood the test of time and mushroomed over the entire world.
With skateboarding recently being announced as a new sport for the Tokyo 2020 Summer Olympics Games by the International Olympic Committee, the sport is gaining more respect and visibility in the mainstream. But how do a bunch of rebels and rejects make a living out of having fun?
On May 11, the college held a panel discussion called Leveraging and Branding the Skateboard Culture in a packed auditorium. Organized by the Lean In for Entrepreneurs Club, the lecture invited professional skaters and entrepreneurs to share their experiences on how they turned their love for skating into a career, and how passion doesn't have to be anathema to profit.
"Skateboarding has connections to everyone in this room." said Sheldon Lewis, founder of sports and entertainment management for Lewis Brand Management. "Did you skate when you were a kid? Did your brother or sister skate? Did you laugh at a skater for falling?"
Making a living as a professional skater may be easier talked than walked, but as the panelists expressed during their talk, numerous career avenues have opened in the world of skating in the past decade.
Various media and apparel companies have not only been able to use skating's popularity to advertise to skaters, but they also have capitalized on the fashionable appeal of skateboarding to non-skaters. Skateboarding has been used frequently in movies, television, advertising and even music.
Yosef "YoYo" Ratleff, professional skater and panelist at the lecture, knows this all too well. Ratleff spoke about how he was signed to American rapper Lil Wayne's skate team "SQVAD UP" when he was just 15 years old.
"My cousin Dante who was friends with [Lil' Wayne], would always tell him, 'You should check out my cousin YoYo. He can skate!'" said YoYo, who was born and raised in New Orleans, just like Lil' Wayne. "Now, skating has taken me all over the world."
Skateboarding is unique in its duality as free form of art and a challenging athletic sport. "It's really like an art form than a sport," YoYo said. "It's so individual… There's no right or wrong way of doing it."
Though skating is a solo sport, the panelists reminded those considering a career in it that no one can do it all on their own. "From a business sense, surround yourself with the right people," Lewis said. "You need a good team of people to accomplish your goals."
Professional skater Spanish Mike spoke at the lecture about how he went from being an amatuer skater, to a blog, to the popular YouTube video series Spanish Mike TV, to becoming a Team Manager for Primitive Skateboarding — one of the largest skate apparel companies in the world.
Skill and passion for the sport helped get Spanish Mike to where he is now, but what he attributed most of his success to his determination in the face of adversity.
"In school, a lot of teachers would tell me that skateboarding wouldn't get me anywhere," said Spanish Mike, who now works with his childhood hero, professional skater Paul Rodriguez. "If you love something, and it's not immediately right in front of you, that doesn't mean that it's not going to happen."
The boxer Mike Tyson once said, "Everyone has a plan until they get punched in the mouth." In a sport like skateboarding where the shots to the face can be both metaphorical and literal, having a good support system is paramount. "That's why it's important to encourage the people you know who have dreams," Lewis said. "Your friend, your brother, your sister — keep encouraging them to pursue their passion."
Marisa Zakaria, business instructor and entrepreneur who teaches Business 101 and 106, hosted the business lecture. She reminded the attendees that finding your passion in life can be difficult, but you'll know it when you see it. "When you find something you love and you find need in the marketplace that you can fill and you find something you're good at: That's your calling."