There's Lots of Parking (If you know where to look)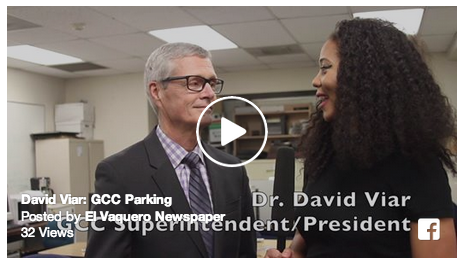 The early bird gets the spot! Glendale Community College Superintendent / President Dr. David Viar offers parking tips, in this video interview with El Vaquero Newspaper reporter Nicole House.

Posted by El Vaquero Newspaper on Thursday, March 9, 2017
The early bird gets the parking spot. Superintendent/President Dr. David Viar has advice for students who drive to campus daily. "We need to spread the word about where parking is available," Viar said. Many students have the notion that there are only two parking structures available, but that's simply not true.
In fact, there are parking spots normally available on Verdugo and Mountain located south of the church. "Make sure you plan ahead, and come early enough to find appropriate parking," Viar said.
You may have to walk a little further, but there is plenty of parking for those who drive here.
Some Tips For
Student Parking:
Carpooling to school can help save time and allow for more       spots.
Try to arrive to school around 30 minutes before your class.
Consider all parking lots around GCC, a little walking can't hurt.
Read all appropriate signs before parking.