Exclusive: Swedish Activists Protest ID Controls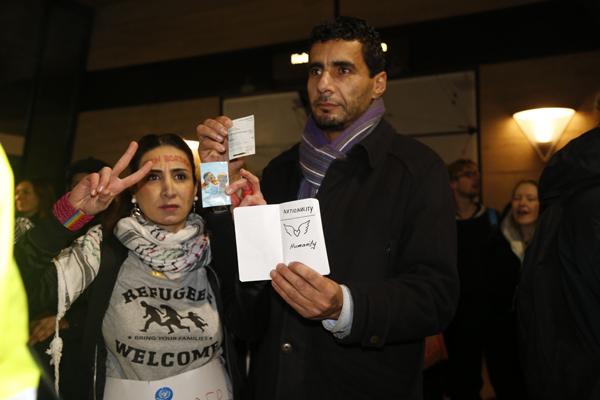 In an effort to reduce the flow of immigrants and refugees from Syria, Iraq and Afghanistan, Sweden has passed a law requiring asylum seekers to have passports. At one point in early 2015 as many as 5,000 people crossed into Sweden per week and many were admitted without identification.
Approximately 60 percent of asylum seekers do not have passports and will now be turned away.
Sweden, with a population of less than 10 million, took in 160,000 refugees in the last year, taking a toll on social welfare programs.
To put that in perspective—that is a 1.6 percent increase in total population, which would be 4.8 million people if the U.S. were to admit the same percentage. However, the U.S. has allowed only 1,854 Syrian refugees since 2012.
Although Sweden's Left and Green party leaders have been proponents of providing a safe haven, both parties acquiesced when the more conservative Sweden Democratic and Moderate parties convinced them that the country can not afford to accommodate immigrants at the current rate of influx.
Copenhagen, Denmark is one of the main entry points to Sweden as thousands take the train across the bridge to Malmö. Most refugees make their way from Germany and some seek asylum in Denmark, but Sweden's more liberal admission standards made it easier to apply for asylum there.
Hundreds of humanitarian protesters travelled from Sweden on Jan. 9 in a campaign to express their displeasure with the new law.
Salim Azi, an activist, attended the protest to show solidarity.
"I am here to show sympathy for the refugees who want to travel to Denmark and Sweden," said Azi.
Azi held up a paper to the security guards that read "I want to seek asylum. I have no identity documents and hereby wish to apply for asylum in Sweden," with reference to the UN Refugee Convention, which he said does not allow for dismissal of those without passports.
Stellan Lindell, a member of Sweden's Green Party who organized the protest, disagrees with the government's action.
"I have big expectations," Lindell said. "That the campaign gets media attention. That the government listens to criticism—not only from us citizens but also from the UN and the EU against these ID checks, which is unique of its kind. It prevents people who do not have IDs from getting to Sweden."
The new law also affects local commuters who live and work on opposite sides of the 8-kilometer-long Oresund Bridge connecting the two countries. Many Swedish people work in Copenhagen and Danish workers commute to Malmö daily—as many as 20,000 cars per day. The trip that once took about 30 minutes now may take up to two hours as all commuters must exit at the airport train stop and queue up to have their passports checked before boarding another train to their destination.