Black Scholars Honor Martin Luther King Jr. Day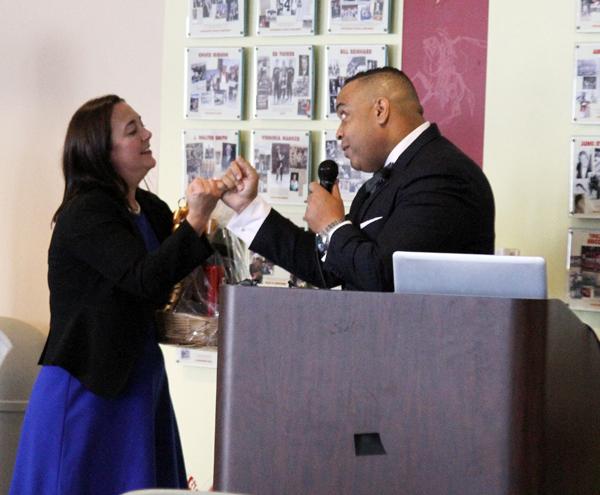 About 100 students, educators and members of different religious communities gathered at the Student Center on Thursday for a morning of remembrance and inspiration.
With an event presented in his honor, it was only fitting to play Martin Luther King Jr.'s "I Have a Dream" speech during the Interfaith Breakfast hosted by Glendale College's Black Scholars program.
As stated in the title, their goal is to promote "Unity Through Faith" at this event—which they hope to hold annually.
But, it wouldn't be breakfast without eggs and coffee, among other refreshments. Gregory Sanders, Senior Pastor of the ROCK Christian Fellowship Long Beach, was present to bless the food. Sanders asked the audience to stand for a "30-second pregnancy test." They chuckled as they rose to their feet.
"Be pregnant with a dream. Be pregnant with a purpose. Be pregnant with a goal," Sanders said. "You can deliver something so awesome, but you gotta first believe in immaculate conception and having the ability to be pregnant with a greater purpose."
Everyone in the room, male and female, positioned their hands on their stomachs to "feel their purpose." Then they held hands with those around them, bowed their heads and prayed.
President of the Board of Trustees, Tony Tartaglia took a moment to follow up on Sanders' sermon, saying he had "morning sickness," but would get through it. He then praised the Black Scholars for their efforts.
"What I particularly like about this program (Black Scholars) is not only does it help our African American students succeed and continue to succeed, but it encourages community involvement," Tartaglia said.
President David Viar reflected on the relevance of King's words in today's society, focusing on his views on peace and education.
"As part of Glendale Community College's learning community, we must remember that the actions and words of Dr. Martin Luther King Jr. must guide us every day as educators and lifelong learners — students, faculty and staff — we must always be trying to be better … better human beings, providing community leadership and building critical consciousness," Viar said.
"That's what Black Scholars program is about and I hope that's what we're about across the whole of Glendale Community College."
Viar says he wants everyone to remember that "'The time is always right to do what is right' Dr. King said" and to always carry out King's message.
"Not just on one day, not just on a week, not just a month of honoring and remembrance, but for our lifetime, for our institution and community and our world's lifetime," Viar said.
Robert Hill, dean of student services, expressed his gratitude for everyone's participation. "We may have different beliefs and faiths across the board, but we can find common ground in what we do," Hill said. "In this message we are trying to inspire and inform."
He then introduced Akram Abdulrahman, vice president of Black Scholars and cabinet member of the International Students Association.
"It's a blessing to be at Glendale Community College, seeing all the differences of human nature and cultures," he said. "It's great to experience the strengthening of culture … the thing that strengthens us and unifies us, is humanity."
Abdulrahman introduced J.D. Hall, a local imam, who pointed out that King and Christopher Columbus are the only two people who have a federal holiday associated with their name, calling it a "high and very rare honor."
Even though there have been societal changes in relation to freedom and equality since the Civil Rights Movement, Hall says "the battle still rages on."
"Oppression, injustice and insensitivity are still alive and well," he added. "The enemies of justice and peace will never surrender."
According to Hall "anyone who strives and struggles for good is a jihad." This term is an Islamic concept of the struggle to do good.
"We should all be jihadis," Hall said. "For me that's what the day (Martin Luther King Jr. Day) is all about and that's what every day should be about. We should all be struggling for good. We should all be struggling for justice. We should all be struggling to end oppression and we should all be struggling against evil."
Coordinator of Black Scholars Robert Williams followed suit. Just before he introduced the keynote speaker, he admitted that he only expected 10 people to show up to the event, saying the turnout was "unbelievable."
The audience erupted in applause as Erin Gruwell, civil and human rights activist and educator took her turn at the mic. She told the story of how her Freedom Writers Foundation came to life and the struggles she and her 150 "at-risk" students faced on a day-to-day basis.
Their story has been documented and referred to around the world. Many are familiar with it, due to the 2007 film "Freedom Writers."
"How can I give them a voice?" Gruwell asked herself. "How can I convince them to put down their fists? Put down their spray cans? Put down that gun? And pick up a pen … and maybe, just maybe, write a different ending to a different story. Maybe just maybe, dare to dream that things can get better."
Gruwell said today's youth should "have the courage and tenacity to change, to dream, and to give," while standing up for what they believe and think they deserve.
Hill closed the morning's event with a special tribute for someone he considers "a soldier of Civil Rights," his mother, Barbara Ann Hill.
She was the first black teacher in Orange County and Hill credits her for everything he knows now, saying he is merely continuing what he was taught in his own home.
"I never really had the opportunity to do that," he added. "But I wanted to say 'thank you' and 'I love you.'"
As attendees filed out, some stopped to shake hands and pose for pictures with the numerous guests and speakers.