Distinguished Faculty Member Gives Lecture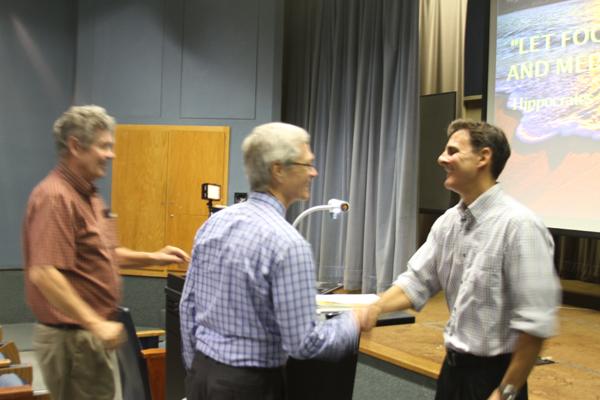 Winner of this year's Distinguished Faculty Award biology professor Joseph Beeman gave a lecture titled "Blissful Eating, Compulsive Thinking: The Body-Brain Connection" in Kreider Hall Thursday.
Beeman spoke about the "wild wild west of biology" in which he tackled America's obesity epidemic.
"There are many problems coming with gaining weight," Beeman said. "We take in a lot of highly concentrated foods, we don't exercise enough, and therefore we gain weight."
Beeman also discussed the connection between food and how the brain functions in response to food stimuli. He focused on the two factors that cause people to gain weight and how it prevents them from losing that weight.
The first factor were the hormones and their connection to a part of the frontal lobe of the brain in the ventral striatum called the hedonic system. Beeman said appetite is a response to pleasure and food offers pleasure, so the hedonic system controls that feeling of pleasure and reward.
"'Could someone be addicted to food?' The hedonic system is responsible for it," Beeman said.
Next, Beeman discussed the bacteria that lives in the human intestines and help digest food.
"A lean person's intestines are like a rainforest, they have different kinds of bacteria that help digest food," Beeman said in comparison to the small variety of bacteria in heavier people.
Beeman stressed that the obesity epidemic is due to the rising consumption trends of sugar over the past decades, such as high fructose corn syrup. He stated that a sugar addiction can sometimes be worse than addiction to crack cocaine.
Kreider Hall was packed with students, faculty and staff; in addition to family and friends — some of which had to sit on the floor.
Beeman is known for his fun teaching style, made evident throughout the lecture.
Amelie Galstyan, a former student of Beeman's, said she found the lecture very informative and it did a good job of raising awareness about obesity in the United States.
After taking two of Beeman's, classes, Galstyan said: "He was more than just a professor to us, he was more of a father figure and he genuinely cared about the students."
After the lecture, faculty and staff were invited for a reception at San Rafael 115.
The Distinguished Faculty Award is the product of a nomination process by the college's faculty and staff, and it is given annually by the Glendale College Academic Senate to one instructor for distinguished achievements.
"I am very thankful for the award," Beeman said. "I thank the Academic Senate for their recognition of the things I've done over the years."
The Academic Senate traditionally holds lectures by the award winners every year. During the lectures, winners present a certain topic in their field of teaching.
Accounting professor Christine Kloezeman, who received last year's award, presented Beeman with the accolade at the beginning of the lecture.
"He is the perfect one to get it (the award) because he has done a lot for the campus," Kloezeman said. "Joe is a fantastic teacher."
Beeman holds a bachelor's degree in biology with an emphasis in psychology from UC Irvine and a master's degree in biology with an emphasis in neurobiology from Cal State LA.
Beeman has been teaching at GCC for 26 years and received the ASGCC Professor/Teacher of The Year Award in 2008. His experience includes teaching biology, human anatomy, human physiology and several biology labs.
"He's done a great job for the students," Dr. Sylvia Beeman, professor Beeman's wife, said."Joseph has put a lot of heart and soul into teaching and it is finally recognized, which is great."
He also developed a new course — biology 114 Human Form and Function –which will be a part of the Health Information Technology certificate.
"I take the award very seriously and I will continue to work hard to make sure my teaching exemplifies it," Beeman said.