Manufacturing Day at GCC Shapes Future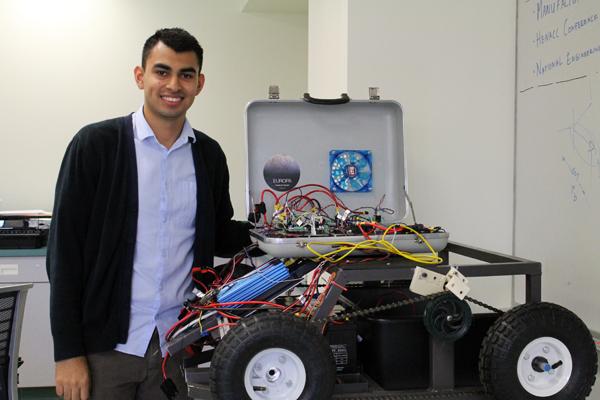 National Manufacturing Day was recognized by organizations throughout the nation and Glendale Community College was no exception.
On Oct 2, the GCC Society of Hispanic Professional Engineers Club (SHPE) hosted its very own Manufacturing Day celebration in the Advanced Technology building, which included an open house and fundraiser to help get the club to an upcoming SHPE national conference in November located in Baltimore, Md.
The manufacturing department on campus includes state-of-the-art equipment and draws the attention of such companies as Jet Propulsion Laboratory.
In attendance at the event was Oscar M. Avalos, deputy supervisor of mechanical prototype and hardware fabrication at JPL.
"The students at GCC always impress us and we are happy to work in connection with many of them," Avalos said. "There are some very bright minds at this school and they have a very impressive manufacturing department."
The club's 20 members, an increase of 50 percent from last semester, are immersed in a world all unto their own with heavy machinery and materials at their fingertips.
They enjoy the benefits of a new lab, with computers they made themselves, a brand new 3D printer, as well as one they made.
Jose Martinez is the SHPE GCC club president and manager of the engineering class.
"We are striving for an environment in which the members can come in for hours at a time and be creative," he said. "Much of what we do is dependent upon teamwork and a cohesiveness that I hope the new lab will lend itself to."
Martinez, who also has an internship at JPL, said he welcomes the opportunity to show prospective new members all of the wonderful tools they have at their disposal.
He hopes it will encourage those who may consider dropping out of the engineering program to stay with it and enjoy the benefits and ultimately realize their dreams.
Networking opportunities with industry professionals and building one's resume through internships are perks of being in the club. Despite the club's name, it does not discriminate and is open to all nationalities.
Currently the club is working on a mobile ground vehicle that will roam around campus picking up trash with its robotic scoop and ramp.
Its energy source is being upgraded from a regular battery system to lithium which will decrease the weight and make it more efficient.
The improved design will be worked on throughout the semester and the members hope to have it up and running soon.
The SHPE club meets every other Monday at 12:30 p.m. in the engineering lab room 229 in the Advanced Technology building.