DEAFestival Brings Hearing and Deaf Together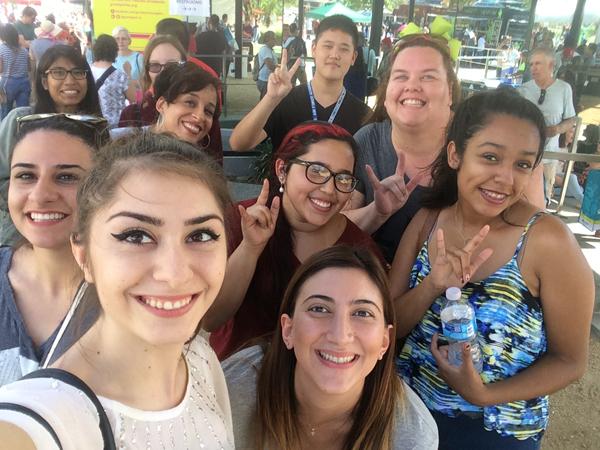 The 17th annual DEAFestival LA took place Saturday in Grand Park in front of Los Angeles City Hall. The free event attracted a crowd of over 40,000 people, both hearing and deaf alike. Various food trucks and vendors were at the event, along with exhibitors providing information and services to the deaf community.
One of the central missions of the DEAFestival was to provide resources and a community to deaf youth, especially deaf children with hearing parents, who might need additional support. Though the deaf attendees were of all ages, many families were also enjoying the event.
Alon, whose 5-year-old daughter Ellie is deaf, was in attendance with his family.
"We try to come to the festival every year," Alon said. "My wife and I have been signing for about five years, so we're still learning, but this is a good opportunity to practice and to get information and support the community. It's a really good place for families of deaf children or even deaf parents of hearing children to connect and it's really fun for the kids."
The DEAFestival also attracted hearing students of American Sign Language.
"It was amazing seeing the hearing and deaf communities come together," Vaneh Hartoonian, a GCC psychology major, said. "I think it would be a great experience for hearing people. It might be strange for those who don't know how to sign, but everyone should at least become educated and aware of other communities."
Emily, a deaf studies major at Cal State Northridge, said she learned ASL in high school because she had a lot of deaf friends and wanted to be able to communicate better.
"This event is amazing, not just for the deaf community, but (everyone)," she said. "I feel like a lot of hearing people don't realize what deaf people are really like, but interacting with them in a normal space like this opens a lot of eyes."
The festival was run by volunteers, most of whom sign with varying degrees of fluency. Their passion and enthusiasm was tangible and many were veterans of the event.
"Our goal is to educate the public and parents with deaf children about deaf culture," said Volunteer Coordinator Joanna Hinojosa through an interpreter.
"We're trying to build a bridge, in essence, between the deaf and hearing world, so that each is aware of the other," Hinojosa said. "We would like to invite the hearing world into our deaf world, expose them to our language and culture – things that they wouldn't know about without experiencing them."
In addition to providing a communal space for the deaf and hearing communities, the event also showcases deaf artists, designers, and musicians, among other talented people.
"Hearing people often don't realize that deaf people can do a lot of things. The only thing we can't do is hear," Hinojosa said.
Editor's note: Some sources declined to provide their last names due to privacy concerns.