Fire at Stengel Field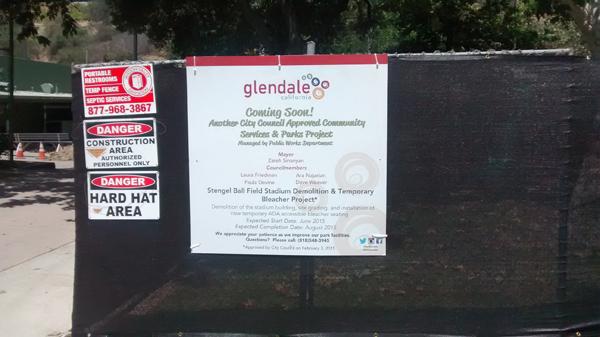 It's been a hot week in the Glendale College neighborhood. A brushfire burned for several hours Thursday and Stengel Field, scheduled for demolition this month, caught fire yesterday afternoon. The bleacher area in the stadium at 1601 Canada Blvd. was reported to be burning around 4:30 p.m. Thirty firefighters and a police airship battled the blaze and knocked it down by 5:05 p.m. according to Glendale Fire department spokeswoman Brandy Villanueva. There were no injuries reported.  The cause of the fire has not yet been determined.
Meanwhile workers have begun to tear up pipes and water mains on the grounds behind the building.