Journalism Day at GCC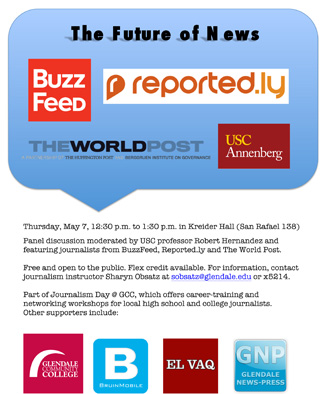 Panels, workshops and free pizza! Join us on May 7!
12:30 p.m. to 1:30 p.m. in Kreider Hall (San Rafael 138)
Panel discussion moderated by USC professor Robert Hernandez and
featuring journalists from BuzzFeed, Reported.ly and The World Post.
Free and open to the public. Flex credit available. For information, contact
journalism instructor Sharyn Obsatz at [email protected] or x5214.
Part of Journalism Day @ GCC, which offers career-training and
networking workshops for local high school and college journalists.