Student Journalists Win on Web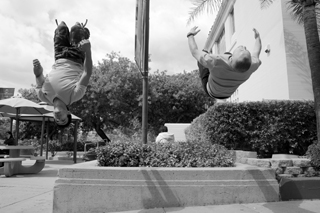 Glendale College student journalists won six awards, including the coveted Online General Excellence award for www.elvaq.com, in the statewide
Journalism Association of Community Colleges mail-in contest this month.
The contest included nearly 1,500 entries from more than 40 community colleges around the state.
"Our news team works really hard, so these awards are a great form of positive reinforcement for our staff. They boost morale and team spirit," El Vaquero editor-in-chief Agnessa Kasumyan said.
Other awards won by Glendale
College  students include:
2nd Place Best Ad – Kasumyan for the Muckrakers Club ad in The Insider magazine;
3rd Place Best Editorial –Kasumyan and Kendall Faulkner for an article about how hook-up culture prevents lasting relationships;
3rd Place Magazine Photo – Jonathan Williams photo of the GCC parkour club in The Insider magazine;
4th Place Best Feature Story– Kasumyan for an article about activists' 1971 burglary of FBI office that exposed government abuses of power.
Honorable Mention Best Broadcast — Jobi Javier, Alexandra Duncan, RJ Saunders, Sal Polcino for El Vaq News.
Moving into the digital age, the student newsroom has redesigned the www.elvaq.com website to make it easier to read on mobile phones and tablet computers. It expanded its web coverage to include TV videos and photo slideshows. It has also boosted its social media content on Facebook, Twitter, Instagram and Snapchat.
"We have been very focused on increasing our online presence, and it seems to be working," Kasumyan said.
Associated Students of Glendale College gave El Vaquero a $600 grant to create and promote the free El Vaq iPhone news app, available next month in the Apple App Store. UCLA's Bruin Mobile, which designed the app, will also develop an El Vaq news app for Android phones this semester.