Armenian Genocide Apparel Under Scrutiny by Americana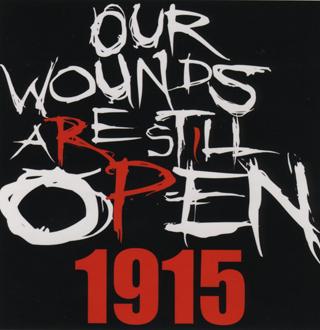 The Americana at Brand became the center of controversy when their management ordered a kiosk selling apparel commemorating the Armenian Genocide to stop displaying certain merchandise.
After spreading word about the Open Wounds Movement via social media for the past two years, Tina Chuldzhyan, Alex Kodagolian, and Armin Hariri rented out a cart at the Americana in February to sell their Open Wounds 1915 merchandise.
Most of the products are Armenian Genocide-themed, but they also offer merchandise dawned with their Pentagon Records logo and numerous pieces related to the upcoming 7 Deadly Sins album release.
The Americana restricts the sale of pornographic material, drug paraphernalia, and second hand merchandise; the black shirts, however, simply read "Our Wounds Are Still Open – 1915" and "We Are Still Here – 2015," referring to the genocide by Ottoman Turks that killed 1.5 million Armenians in 1915.
Hariri, better known by his stage name "R-Mean," revealed the T-shirt design in a music video for his song "Open Wounds," which was released in 2013 and addresses the horrific 1915 events.
Hariri began selling the "Open Wounds" shirts to raise awareness about the genocide. Some well-known supporters of the movement include Congressman Adam Schiff, rapper The Game, rapper Crooked I, boxer Vanes Martirosyan, radio personality Sway Calloway, System of a Down member Serj Tankian, former Destiny's Child member Farrah Franklin, and TMZ reporter Anna Kachikyan.
News of the ban initially came from R-Mean's Instagram page,  where he posted a photo of the shop1915.com cart, located by Katsuya restaurant, informing his followers that the cart had been "compromised." He also mentioned that they could not display the merchandise but were still allowed to sell it per the customer's request.
Americana's management had previously asked them to keep their cart family-friendly and remove all pictures of protests. Assuming they meant the poster consisting of a compilation of pictures of people wearing the shirts, Chuldzhyan cooperated and took it down.
The Americana alleges that there were still several complaints about the genocide shirts being offensive and thus could not be displayed.
"[The shirts] don't say anything bad about anyone or anything," said Hariri.
Harut Sassounian penned an article about the dilemma on March 9 which triggered an alarming response from the community to which Americana retorted with a short apology on their Facebook and Twitter pages that night; calling the situation a "regrettable misunderstanding" and that the kiosk is "more than welcome" to display the shirts.
Oddly enough, the kiosk owners did not receive any word from the management.
"We haven't heard anything, didn't get a phone call or an email,"  Hariri said. Written consent is exactly what they need before they are able to put the T-shirts in question back on display.
Some in the Armenian community felt the apology was insincere and insufficient.
Ara Manoogian, human rights activist and "The Truth Must Be Told" blogger, introduced the idea of a peaceful protest on Facebook in response to the Americana's actions. Over seven thousand people were invited to the "Peaceful Protest Anti-Armenian Genocide Recognition Americana Shopping Center" event and it received about 400 confirmations.
The event took place last Friday night where, according to the vendors, 250 people came by to support the cause, including a handful of non-Armenians. 50 people, including K'noupe Tomopoulos, Viza's lead singer, and Aaron Parrish, actor and musician, gathered on Brand and Harvard, sporting their genocide shirts, and marched around the shopping complex.
While doing so, participants handed out fliers and article clippings to inform Americana's visitors about the controversy and explain the situation. Although they were accused of solicitation by Americana's security, they continued to defend their right to protest.
Protesters truly believe that they have made their voices heard and made an impact for the betterment of the movement. One protester, Jasmine Sarkisyan, said she was "outraged" and that Rick Caruso, owner of the Americana, "needs to come out and explain what exactly happened and formally apologize to the kiosk owners."
Tomopoulos praised the vendors' efforts and sympathizes with the cause considering his Greek background.
Parrish told Manoogian he couldn't believe it when he saw what actions Americana was taking. "This being the central mall area of Glendale and Glendale being the biggest Armenian population outside of Armenia, how could they stop [the cart's] sales?…it's shocking!" Parrish said.
Adding that Armenians should expect "respect and justice and demand that the shirts be able to be displayed and sold like any other commodity." Parrish assures the Armenian community by telling them that he, "an African-American, is here behind the Armenians too."
Manoogian does not think Americana is going to be backing down as they are facing possible legal actions, but is anticipating a "comprehensive and accurate explanation" as the first step in showing that the Americana is genuinely apologetic.
He told El Vaquero that "we are considering a full boycott of Americana until such time that they give us a full and comprehensive explanation as well as settle their differences with the cart vendors."
R-Mean took to Facebook, Twitter, and Instagram to thank the community for their love and support accompanied by the hashtag #OpenWounds1915.