ASA Lecture Discusses the Turmoil in Artsakh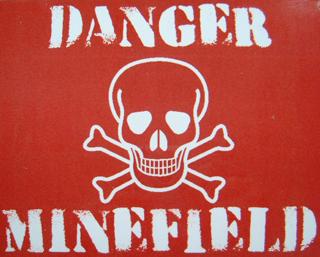 A darkening sky indicated to Christina Zakharian, a 28-year-old mother of two, that it was time to herd the cows homeward.
It had only been a month since she moved from Armenia to Nagorno-Karabakh with her family when she stepped on an anti-personnel blast mine that left her without her left leg from the knee down.
Zakaharian is one of many victims of the minefield tragedies in Karabakh and countless other countries that have become a deathtrap for many innocent civilians.
The HALO Trust director of finances, Gala Danilova, spoke at an Armenian Student Association meeting on Nov. 20 to inform students of HALO Trust's efforts to completely de-mine Karabakh.
"The goal to clear these mines is within our reach," Danilova said.
Nagorno-Karabakh, also know as Artsakh, a small country of about 150,000 people, has been haunted by the metal ghosts of war for 20 years. Artsakh was caught between the crossfire of a  two-year conflict between Armenia and Azerbaijan from 1992 to 1994 over land that left most of the country littered with hundreds of unexploded mines.
Mines used during the war included anti-personnel, anti-tank and anti-group mines, all of which were used to limit the movements of tanks and soldiers.
Since 1994, these mines have caused 280 accidents and 350 injuries and deaths. Artsakh has the highest per capita civilian casualty rates in the world — a quarter of these civilians being curious children who come across mines and accidentally set them off.
In 2014 alone, there have been seven mine accidents and two deaths in Artsakh. The HALO Trust's mission is "getting mines out of the ground, now!"
"As an Armenian from Artsakh," Danilova said it is important for her to help "save future generations."
The U.S. government funds The HALO Trust's efforts in demining Karabakh within its traditional boundaries only. Any areas outside of these boundaries, called green areas, which include 79 unexploded minefields, are not funded for removal.
"The cost of removing a mine is $1,000 and the cost to remove a minefield can range anywhere from $10,000 to $1 million," Danilova said.
The process of clearing mines starts with the sweeping of a metal detector over land to check for any metal in the ground. The deminer isolates the mine from all sides by carefully digging away at the mine's edges and corners. Then, a team leader comes with explosives and a detonator and explodes the mine.
"Every bomb we find, we explode," said Danilova.
Ojeni Sammis, a volunteer from Landmine Free Artsakh, was also present for the lecture. LFA collaborates with HALO and focuses on demining villages outside of government funding. Sammis has collected $22,000 for the clearance of minefields in green areas.
According to a LFA campaign pamphlet, "even where the presence of mines and cluster bombs is known and can be avoided, they cripple the economy by denying farmers the use of their land. This is one of the reasons that the people of Artsakh remain poor."
Prince Harry, a patron of The HALO Trust, asked "When the daily walk to the water point, the tilling of fields, the herding of livestock or the playing of children can result, at any moment, in death or life-changing injury, how can life be normal?"
Danilova was born in Baku, Azerbaijan but moved to Nagorno Karabakh in 1988. She is a graduate of Mesrop Mashdots University in Stepanakert with degrees in History and International Relations. Danilova joined HALO in 2002 as a Mine Risk Education coordinator in Stepanakert and in 2009 became director of finance.
For more information, visit LandmineFreeArtsakh.com.