San Francisco College Accreditation Problems Drag On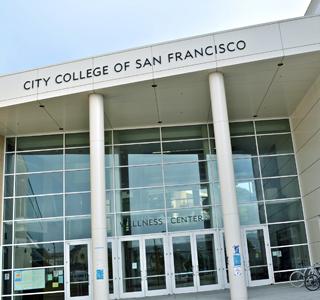 The Accreditation Commission of Community and Junior Colleges is facing allegations of suspicious practices in a case that goes to trial on Oct. 27.
The issue arose after the commission imposed a "show cause" sanction on City College of San Francisco in July 2012, removing its accreditation standard for failing to meet financial and organizational management standards.
The accreditation commission is an independent organization run by educators. Although colleges join the commission voluntarily, an institution must be accredited before it can receive federal financial aid. Part of the Western Association of Schools and Colleges, ACCJC assures that accredited institutions meet certain standards and provide students with an effective education. It also ensures that that any courses or degrees from the schools are valid and can get students jobs upon graduation.
A "show cause" is the most severe sanction the commission imposes. Although CCSF requested a review for re-evaluation, the commission still found the college not in accordance to its standards.
CCSF's discrediting stirred public outrage as the school housed nearly 80 thousand students whose education now hangs in the balance. Their classes may no longer transfer to four-year universities and their degrees may be invalidated. The California Federation of Teachers filed a complaint against the commission to protest the college's "show cause" status in April, citing that ACCJC was in violation of federal law and its own policies.
If the status remains,  10 percent of San Francisco's populations will not qualify for financial aid.
The commission discovered that the college violated 30 of its standards in various areas, including learning programs, supportive services, governance, leadership, and resources.
Troy Davis, an academic counselor at Glendale College, said that it is important to maintain accreditation because community colleges are the most affordable higher levels of learning in a local community.
"What happens when a school loses its accreditation [is that] students may have to travel farther to another school, their transcripts might not be easily recognized by other institutions in terms of transferring, and not all of their courses will necessary transfer into a degree that they are looking for at the other community college that they go to," he said.
At Glendale College, the Accreditation Committee works on accreditation program review and planning.  Coordinator Isabelle Saber orchestrates nine teams that are in charge of satisfying certain the commission's requirements. The teams are composed of educators, administrators, employees, classified  employees and students.
"The accreditation process is a self-evaluation process, and sometimes we forget that," said Saber. "One of the things we started this year was actually an in-depth study of the institution as to what may be missing [and] what might we improve."
The college is due for an accreditation review by the commission in Spring 2015.  The Accreditation Committee has already started working on improving possible "gaps" that the commission may comment on. Saber, the Board of Trustees and other administrators have created a private document called the Gap Analysis to address the possible corrections.
"Instead of them [ACCJC] telling us what is missing, we decided to take it upon ourselves to really do a self-study and see what was missing and address these gaps," Saber said. "Meanwhile, the nine teams are writing the portion of the review that pretends to their standard."
The first draft of the self-evaluation review was completed in the end of September.
According to Ron Nakasone, the vice president of administrative services, some of these gaps include the link between resource allocations and planning, the level of security, custodial cleaning on campus, the funding of post-employment retirement benefits, health benefits for retirees and even minor issues such as including all the diversity groups in the college's catalog.
Although the commission's credibility is being questioned, Saber said it is important to note that the team that visits the schools is not made up of ACCJC employees.
"This is a peer review process, so the visiting teams are made up of faculty and administrators of other colleges," she said. "I was on a team myself last year. I wasn't surprised when I heard [about San Francisco]. There are two sides to each story and I think San Francisco would benefit from certain changes. This is now in the hands of the courts as to whether or not their practice was adequate or not."
The trial will determine whether ACCJC was fair in its preliminary shutdown decision at City College.
Glendale College students interested in serving are encouraged to join the Accreditation Committee. The committee welcomes students' perspectives and involvement in the process. Those who are interested may contact Saber at [email protected]