GCC Student Sworn in as LA Commissioner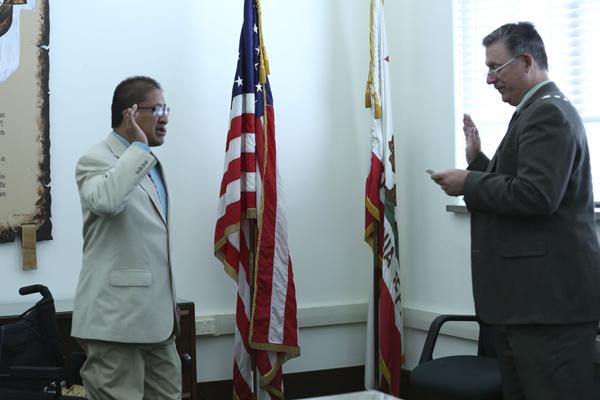 He rose from his wheelchair, straightened himself up and accepted an honor commemorating his tireless efforts to improve  facilities for the disabled on campus and elsewhere.
Glendale College student Jorge Acevedo, 42, was appointed to be a commissioner for the  Arts, Parks, Health, Aging and River Committee of the city of Los Angeles.  He took the oath of office on Sept. 25 at L. A. City Hall.
This comes after years of lobbying at GCC and surrounding areas of L.A. and Glendale to provide adequate facilities for the disabled. He has seen success in improving the campus and played a significant role in making Olvera Street in Los Angeles handicapped accessible.
Standing up is more than a significant feat for the new commissioner. Long before he became an advocate for change at GCC, he was a football player at Belmont High School and was aspiring to become a police officer. He passed his police academy exam and was well on his way to a career in law enforcement; however on Christmas day 1999 he was the victim of a carjacking in which he was shot multiple times. He lost his ability to walk, but found new ways to realize his goals.
For nearly 13 years, Acevedo lived with a bullet lodged in his head. He chose to avoid a dangerous operation to remove it until he began to experience excruciating pain last year. In April, he finally underwent surgery to remove the bullet.
To everyone's surprise two bullets were found. The result was that the pain he underwent for all those years is gone as he continues to stay active.
"Jorge is all over campus. He will even personally bring new students to the center when he sees that they need help. He deserves anything he gets," Students with Disabilities counselor Valerie Rhaney said.
For many years GCC did not offer adequate wheelchair access for some of its buildings and did not have working push buttons for doors or floor markers.
"Any handicapped people using the elevators used to cross their fingers and pray that they would not get stuck," Acevedo said
Acevedo is a well-known figure on campus where he is involved in sports. He is an assistant coach for the women's soccer team and works with the men's baseball team as well. He earned a job at the Glendale Police Department, working in the evidence room. When he is not working at the police department he frequently spends time at practices and games.
"His contribution to our team is invaluable, he is well spoken and outspoken, I know he does everything to make sure our campus is up to standards," baseball coach Chris Cicuto said.
The work he has done on campus has directly resulted in many improvements for the disabled. Markers on the floor for wheelchairs, wider doors, handicapped spaces at lunch tables, and increased maintenance for elevators and push buttons are a result of his work. However, he still acknowledges there is room for improvement.
"Little by little things are coming together, the administrators are very helpful, but there are still things that need to get better," he said.
Acevedo's work is not limited to campus. When he was young, he would visit historic Olvera St. Street.  At that time the site had no wheelchair access to many of its shops and restaurants and did not offer many of the essential things needed for disabled people to enter.
Acevedo had developed many connections through his work with the Glendale Police Department and used them to pressure the city of Los Angeles to make a change in one of its most historic sites. Now Olvera Street is up to code with wheelchair ramps, more handicapped parking and floor markers.
Juan Ramos of the City of Los Angeles Historical Monument Authority was the most prominent figure in attendance at Acevedo's conformation. He worked with Acevedo extensively and played a large role in the transformation of Olvera Street.
"He has no limits, Jorge will obtain anything he sets his mind too, it's all up to him," Ramos said.