Presidential Candidates Hold Forum
Students, faculty and Glendale community members gathered Thursday in the campus auditorium to meet the three remaining candidates vying for the job of president/superintendant of GCC.
Rajen Vurdien, the president of Fullerton College, Farley Herzek, the interim president of East Los Angeles College and David Viar, the president of American River College in the Sacramento area were each allotted 45 minutes to make opening remarks, answer questions from the administrative panel and the audience, and to add a closing statement.
Interim Superintendent/President Jim Riggs served as host with a panel consisting of members of the GCC board of trustees; Mary Mirch, vice president of instructional services; Rick Perez, vice president of student services, and Alfred Ramirez, interim administrative dean of instructional services and continuing education.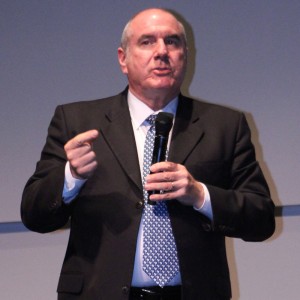 Vurdien was introduced first. Born in the island country of Mauritius, Vurdien was educated in France then returned to Mauritius to teach English.
In his opening statement Vurdien said, "I have had a passion for education since I was a child. The service the community college system provides cannot be compared."
When asked by the panel how he would work to insure GCC's financial future Vurdien said, "We would work with the state and the grant writing division, but there are other ways to get additional funding." He suggested the college should work with other countries as well. "China and Indonesia want to copy the community college system and they will pay millions," he said.
Concerning the cancellation of low enrollment classes, Vurdien added, "We should not be cancelling classes with low enrollment if we want to be a comprehensive institution — we will have to keep those classes."
In 1998, Vurdien moved to Long Island, N.Y., but at his wife's behest, migrated to California to teach. He acquired the dean's position at Long Beach City College where he stayed for six years.
Vurdien has been the president at Fullerton College for less than three years.
Farley Herzek is the interim president of East Los Angeles College and he has held that position since July 2012. He is the son of a Holocaust survivor and grew up in New York City. Herzek said he has a "special affinity" for the community college system.
Herzek has been an educator for 32 years. He started in the K-12 system in Long Beach, Calif. then moved on to Long Beach Poly High School.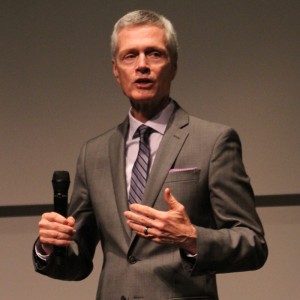 "I loved being a faculty member, and would encourage my students to attend city colleges," Herzek said. "When the president's position came up, [at East L.A. College] I thought 'Why not pull students into community college instead of pushing them.'"
Herzek had some innovative ways to raise funds. East L.A. College partnered with film companies to get them to film on campus. "After only six months our chief financial officer said we brought in $800,000 in revenue," Herzek said.
Herzek came to the GCC campus a few times secretly, dressed in casual clothing for what he described as "stealth visits."
"When preparing for a mountain climb we hiked up Signal Hill. I wish I had known about the GCC campus," he said.
David Viar has been president of American River College in the Sacramento area for eight years. He has also served as the chief executive of the Community College League of California for 15 years.
Viar said he was seeking a place where he could make a difference.
"My family loves California and my son moved to Glendale seven years ago," said Viar. "This is home," he said.
Viar said, "Some say I am too caring, too open and too willing to have everyone involved when decisions need to be made. The challenge is to look at the problem and admit we are not quite ready to make a decision," he said.
Viar said visibility is the key to community relations and leadership. "One must be visible, engaged and authentic as a leader," he said. He believes in finding the "appropriate balance between the college and the community."
Although five finalists were identified earlier this month, two dropped out of the race last week. Pam Eddinger, president of Moorpark College, and Kevin Walthers, president of Los Positas College in Livermore, Calif. both withdrew their candidacy.
Administrative Dean of Human Resources Donna Voogt said the board of trustees hopes to have a decision today or Friday at the latest.