UPDATED: LA Sheriff Bomb Squad Investigates Package at GCC
The Glendale Community College police department temporarily closed the parking structure and Lot C Monday morning after students found a package in the parking structure.
Students observed a package left alone in the parking structure near the pay and display machines. "Not knowing what the package was they called the police," GCC Police Chief Gary Montecuollo said.
"This is a precautionary measure, LAPD and fire are on the way to help assess the situation," GCC Interim President/Superintendent Jim Riggs said at 8:40 a.m.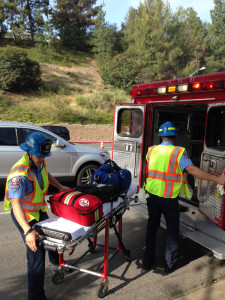 The GCC Police Department set up a perimeter around the parking structure and Lot C, but the school remained open. The Child Development Center was "sheltered in place," while the package was being checked out, according to Montecuollo.
"We called the police department from Glendale and the fire department," Montecuollo said. "Based on our discussion it was the right decision to contact the bomb squad to have them X-ray it [the package] and make a determination as to what it is."
The LA Sheriff Bomb Squad arrived at GCC at 8:50 a.m. to assist and assess the situation.
"They [the bomb squad] took an X-ray to see what it was they couldn't initially determine what it was," Montecuollo said. "They [the bomb squad] used a water device that shoots a high stream of water to open the case and they determined that there was nothing inside the case."
Police Sergeant Erin Kurasz said that after the Boston bombings on April 15, the GCC Police Department wanted to take precautionary measures and check out the package.
"It was actually a hat box, that you carry hats in," Kurasz said. "It's actually an old piece of luggage. It was an American Tourister hat box, and it was empty."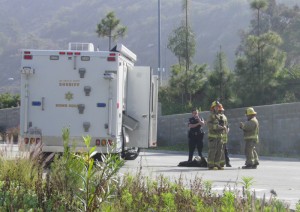 The parking structure and Lot C reopened at 10:11 a.m. after the LA Sheriff Bomb Squad cleared the structure.
Due to the lack of parking spaces at the start of a peak block of classes, the GCC Police Department contacted the city. "Students can park in the perimeter muni lots, they don't need a parking pass, because they couldn't get pay and display permits," Montecuollo said. "There won't be any tickets today."