Graduation 2012 Celebrates Accomplishment – Exclusive Slideshow Coverage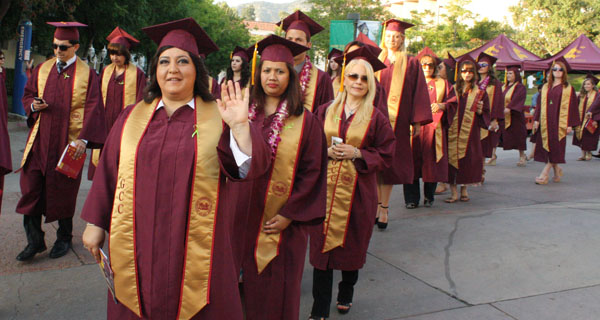 Tex Wells, El Vaquero Staff Writer
June 5, 2012
Sartoris Field was sun-splashed and the bleachers were filled to capacity when Glendale Community College held graduation services under blue skies, during its 85th year, on Friday.

The celebration did not kick off until 7 p.m., thereby making it possible for working parents, other family members, friends and supporters of the graduates to attend the celebration of their academic accomplishments.

Superintendent Dawn Lindsay, who stirred the throng with her final graduation address, was enthusiastically applauded.

The graduates exemplified the diversity of the student body. The youngest graduate was 19 and the oldest was 69.

Female graduates outnumbered male grads 471 to 211; Associate in Arts degrees were earned by 255 students while 175 earned Associate in Science degrees. Additionally, 252 certificates of completion were awarded.

Twenty three students completed their studies at GCC with a 4.0 GPA. They were recognized by Vice President of Instructional Services Mary Mirch. The overall average graduate GPA was 3.152.


Slideshow Media Credit:Tex Wells

Associated Students president, Susanna Sargsyan, who led the pledge of allegiance, also led the Graduation Pledge of Social and Environmental Responsibility which states, "I pledge to explore and take into account the social and environmental consequences of any job I consider and will try to improve these aspects of any organization for which I work."

Upon conclusion of the event, graduates, students with their guests, and visitors were treated to refreshments and a DJ provided by Associated Students of Glendale Community College.