Montecuollo Becomes New Campus Chief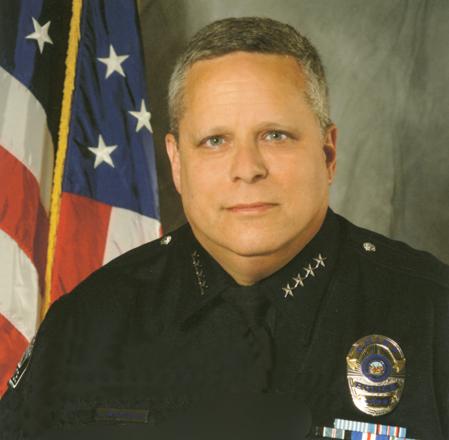 Gary Montecuollo was appointed the college's new chief of police on Sept. 19 in a swearing-in event in the Los Robles Building.
President/Superintendent Dawn Lindsay, members of the Board of Trustees, friends, family and fellow officers attended the ceremony.
The event started with introductions by Lindsay, introducing Montecuollo to everyone and announcing that he will be the new chief of police of the college. Following Lindsay's introduction, Father Vazken Atmajian led the ceremony with a short prayer, which was then followed by a welcoming from Anita Gabrielian, president of the board of trustees.
Lindsay then read the oath of office to Montecuollo.
"The oath of office is given to all police officers," said Monetecuollo. "It symbolizes the very seriousness of their oath, and also their agreement to defend the constitution of the United States, the state of California, and in this case, the board policies and procedures of the college."
After the oath was read, it was time for the pinning of the badge, which is a special moment for police officers. For this occasion Lindsay asked Montecuollo who he wanted to pin the badge on his uniform.
Montecuollo requested that Glendale's Police Chief Ronald L. De Pompa pin the badge to conclude the ceremony.
"Chief was there for me when I started," said Montecuollo. "He taught me and showed me everything that I know today."
At last, the badge was pinned and Glendale Community College received a new chief of police. The room erupted in applause and cheers for the chief. As the applause settled Montecuollo gave a short speech.
"I'm very honored and blessed to be here. I want to thank the board and its members for giving me this opportunity. Thank you to my friends and family for their support. Without them, I wouldn't be here today."
As chief, Montecuollo's main focus is the students.
"My mission is to make the students successful. I want to make our campus safe for our students to succeed," he said. "First I want to give credit to Dr. Lindsay. She's an outstanding leader. I tip my hat to her. She gets involved and is very professional."
Before the ceremony ended, Sgt. Samir Abou-Rass said a few words about Montecuollo and what this experience means to him.
"When I met him, I wished and would have loved to have him as my leader. He's very humble, he won't talk down to you. He will see you at the same level and communicate with you, person to person. I'm very happy and excited for him to be here," said Abou-Rass "He has great leadership skills."
To welcome in Montecuollo, everyone waited in line to shake his hand and welcome him to the force.
Chiefs and command representatives from Pasadena, Burbank, Bob Hope Airport, Glendale, Oxnard, Santa Monica, Los Angeles and UC Irvine stood in line to congratulate both the officers of the campus and Montecuollo.
Montecuollo has worked in law enforcement for the last 30 years. Within that time, he has served as patrol officer, detective, sergeant, and lieutenant. His most recent work was as area commander, bureau commander, and swat commander for the city of Glendale.
Not only does Montecuollo teach administration of justice, but he is also an alumnus, class of 1987. Montecuollo has a bachelor's in management and human resources from California Polytechnic University Pomona, and a master's in public administration from the University of California State Northridge.
Montecoullo lives in Glendale and participates in numerous community events. He is a board member of the Glendale Association for the Retarded, a member of the Downtown Glendale's Merchants Association, the Armenian-American Chamber of Commerce, the Glendale Latino Association, Glendale Kiwanis and a member of the Glendale Chamber of Commerce.