Journalism Program Wins at Conference
Glendale College maintained its usual polish at the Journalism Association of Community Colleges' (JACC) Southern California conference on Oct. 23 and 24, with El Vaquero and The Insider as its representatives.
Held at Cal State Fullerton, the conference hosted more than 400 community college students from 27 schools with competitions and workshops.
Staff members from both El Vaquero and the Insider garnered multiple awards by partaking in mail-in, bring-in and on-the-spot competitions. The mail-in competition consisted of articles, photos and page layouts credited to last semester's staff. Students prepared for the bring-in competition beforehand by taking photos on campus and designing a house ad for the Web.
For the bring-in competition, students competed with each other in different areas of journalism, from copy editing to broadcast newswriting.
Winners included El Vaquero's editor-in-chief, Brandon Hensley, Jesse Gutierrez, Richard Kontas, Anita Marto, AnnaLinda Andersson and Jane Pojawa, the Insider's editor-in-chief.
Hensley, who is also SoCal Regional Student Vice President for the association, won a first-place award for writing a profile feature about Monica Kaufmann, a cheerleader who won $50,000 on the TV show "Wipeout," and received an honorable mention for his column writing. He also participated in an on-the-spot feature-writing contest that earned him a second honorable mention.
Gutierrez and Kontas landed a third-place win in the "Inside Page Layout" category for a feature "Student Art Show Showcases Abstract Expression," which they did last semester. Gutierrez also received an honorable mention for his book review of "Pride, Prejudice and Zombies."
Anita Marto and Kontas earned a fourth-place award for a photo essay/story, and Marto received an honorable mention for "Circle in the Square," an online exclusive slideshow.
Photographer Kontas, displaying his keen eye for still images, earned himself an honorable mention for taking a sports photo in an on-the-spot competition, won second-place for a sports photo he took last semester, and received another honorable mention in the bring-in competition for his feature photo on the topic of campus health care.
Andersson received an honorable mention in an editorial cartoon competition which showcased her artistic skills and cleverness.
The Insider, a relatively new publication, received six awards, including a magazine general excellence award and an honorable mention for a cover picture.
Pojawa racked up a bevy of awards, including first-place for her opinion piece "Proposition 8 Recalls Landmark Case," fourth-place for a feature on Andrew McGregor, and an honorable mention for a profile feature on Jorge Acevedo.
"Michael Moreau, the faculty advisor for the journalism department, and I started the Insider magazine in spring 2008, which was really ground-breaking because even though Glendale has had a campus newspaper for 72 years, we've never had a magazine," said Pojawa.
"We had a terrific pool of talented writers in the feature writing class [JOURN 107] and it seemed logical that they should be able to get their work published in the same way that the JOURN 103 and 104 classes provide the talent behind El Vaquero."
The staff was able to publish its first magazine in print, but as a result of insufficient funds, the fall 2008 and spring 2009 publications were only available online.
"We [the Insider] have done incredibly well in this short period of time," she said. "In only a year-and-a-half we have won 12 awards, including a prestigious General Excellence Award in each semester.
"I think it points to some really talented student journalists in our program and I also think that the quality and the depth of content resonate with our readers."
Aside from awards and well-deserved recognition, students left the conference with enduring lessons and friendships.
"Even though I didn't personally win any awards this time, I think the whole experience is what it's about anyway," said Isiah Reyes, El Vaquero's news and features editor. "The competitions, workshops, bonding … it's what you take from it that makes it right."
El Vaquero was awarded:
Profile Feature: Brandon Hensley – 1st Place "Monica Kaufmann Wipes Out the Competition"
Sports Action Photo: Richard Kontas – 2nd – "Baseball catch"
Inside Page Layout (tabloid): Jesse Gutierrez and Richard Kontas – 3rd "Student Art Show Showcases Abstract Expression"
Photo Story/Essay: Richard Kontas and Anita Marto – 4th
"Track and Field Dominates Mt. SAC Competition"
Critical Review: Jesse Gutierrez – HM
"Classic Literature Comes Alive – Again: Pride, Prejudice and Zombies"
Column Writing: Brandon Hensley – HM – Sports column
Online Photo Story/Essay: Anita Marto – HM –
"Circle in the Square Exhibit Opens at Brand Library"
Bring-In Photo: Richard Kontas – HM – Obstetrics mannequin
Editorial Cartoon: AnnaLinda Andersson – Honorable Mention
"Don't Re-traumatize the Traumatized"
Feature Writing – Brandon Hensley – HM
Sports Photo – Richard Kontas – HM – "Women's Cross-Country"
Awards Presentation SlideShow: Richard Kontas and Edgar Sanchez
The Insider was awarded:
Magazine General Excellence
Magazine Opinion: Jane Pojawa -1st Place
"Proposition 8 Recalls Landmark Case"
House Ad: Insider Staff – 3rd
"Edward R. Murrow'
Magazine Feature (non-profile): Jane Pojawa – 4th
"Andrew McGregor… has a plan"
Magazine Profile Feature: Jane Pojawa – HM Giving up is not an option: nothing keeps
Jorge Acevedo down"
Cover: HM -"Married!"
About the Contributor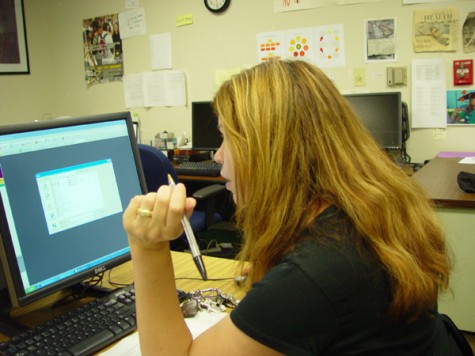 Jane Pojawa, production assistant
Jane Pojawa is a Southern California-based print media editor/writer who also dabbles in web design. Her passion is historical research and has served...