How Green Is The Campus?
In recent years, the general concern to take care of the environment has risen. More people are informing themselves on issues, such as pollution, and are asking what they can do to help. Here at GCC, students are wondering: what is the campus doing to help the environment?
Dan Padilla, manager of maintenance and operations, is working hard to create and keep a clean campus, while taking care of the environment.
"Recycling is the largest thing we're currently doing," said Padilla, "It consumes approximately 24 percent of the budget, but it's worth it."
Recycling is the process in which unwanted materials are collected, processed, and then reused to create new products. At GCC, all of the garbage is sent to an off-campus location, where it is then sorted out – separating garbage from recyclable materials.
Trash is not the only thing that gets recycled at GCC. Scrap metal, such as broken chairs, is recycled and made reusable once melted down. Wooden shipping crates are also recycled and reused – doing this means fewer trees are cut down.
The Sartoris field, which was renovated and installed in Sept. 2005, is an "eco-friendly" field.
"Our track's field is made out of synthetic grass," said Padilla, "it doesn't need water, fertilizer, or pesticides."
All natural grass on campus is mulched. Although mulching and regular mowing appear to be similar processes, mulching is more beneficial for the environment because it takes all of the grass clippings, or "mulch," and redistributes it on the lawn. The mulch acts as compost, keeping the lawn healthy and reducing garbage.
When it comes to the environment, it has been proven that small changes make a huge impact in the long-run. Microfiber cloths will soon replace the current cleaning-towels because they are more efficient while using fewer chemical products.
"All of our cleaning products are recognized as 'green' chemicals," said Padilla, "They are biodegradable and better for are bio-degradable and better for the environment."
Students such as Matt Koharchick, 23, plumbing mechanics major, and Tina Davtyan, 20, political science/environmental studies major, also pitch in to help the environment.
"I have a compost heap at home," said Koharchick, "I use that for biodegradable waste, like food. I also drive a four-cylinder truck instead of an eight-cylinder."
Project: Earth Tomorrow, the environmental club on GCC, is busy preparing for Earth-week. Earth-week will be an on-campus event held after spring break, meant to coincide with Earth Day, a national holiday on April 22.
Davtyan, president of Project: Earth Tomorrow, believes that students "know about taking care of the environment, but many are having trouble connecting personal actions into the issues around them."
"Each action makes a change in the end," said Davtyan, "We want students to understand that they have the power to make changes, but first we all must learn how to change our own behaviors."
"I would like to see us be leaders in conservation," said Padilla, "I would like to see GCC become an example. of students who care for their campus."
About the Writer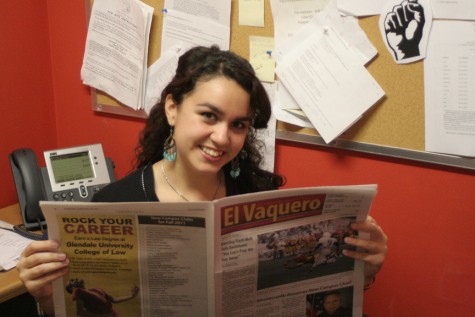 Jessica Bourse, editor-in-chief
My name is Jessica Bourse and I'm the editor-in-chief of El Vaquero, Glendale Community College's student newspaper. After graduating from UC Santa...