Meet Tina, Your Local Dance Filmmaker
Glendale Community College student talks about her dreams and ambitions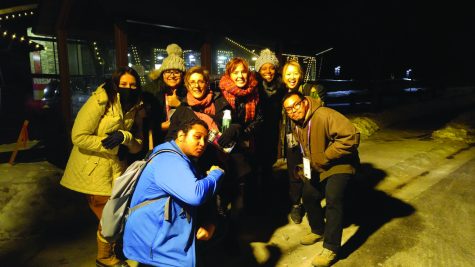 Tina "Soal" Sinlapasai, 34, has been at GCC for three years, with big goals for her future, as she completes her Associate degrees in Dance Teaching, Choreographic Studies, Video-editing and Cinematography.
One of Sinlapasai's career goals is to start a non-profit program, "We Free Me," which will help people rehabilitate from abuse and trauma through art and education.
She's currently learning about everything she'll need in order to understand and help people of all ages and backgrounds as a visual arts teacher. "I plan to make more dance films and continue my videography and editing career while building the non-profit," she said.
Sinlapasai found her passion for filmmaking in the process of taking her creative ideas and putting them into the works. The problem-solving needed to accomplish her ideas is one of the parts she enjoys most.
Being able to combine the two things she loves; dance and film has sparked a fire in this dancer and filmmaker. To display dance in new unique ways that can't be seen on stage is something that's important to her.
Along with other GCC film students, Sinlapasai recently got the opportunity to attend Sundance Film Festival, the largest independent film festival in the United States. Thanks to a grant Dr. Peter Green, Chair of the Visual & Performing Arts Division, and Geri Ulrey, Chair of Media Arts Department received, the students were able to take part in.
Finding confidence while entering a new freelance career can be tough, but through the support of her instructors Victor Robles and Deb Diehl, Sinlapasai said she was able to develop quickly from her insecurities to find her own personal style as a dance filmmaker. . They encouraged her to give her ideas a shot, and the biggest lesson she learned was to always take a chance. "I've experienced a lot in life and I've seen the most reward in the greatest risks I've taken," she emphasized.
Although Sinlapasai loves teaching dance and has a lot of patience, she explains that her work can be both a blessing and a curse. "Sometimes I get people who are very hard to teach. They only want the answers, and don't want to learn the answers," she said. That doesn't stop her from continuing to help people grow and become better versions of themselves.
Apart from being a full-time student, she is also a supplemental instructor in four other classes: Ballet 110 (beginning ballet class), Dance 150 (special needs dance class), Media 103 (intro to motion picture production), and Media 112 (motion picture editing).
"Working with Tina as an SI has been great. She's already a good filmmaker, and she uses her knowledge and experience to make sure that students are learning the skills they need to continue ahead in the department and the field," media arts instructor Chris Borey said.
Sinlapasai fell in love with visual arts when Ulrey asked her to assist with two media arts classes. "Being an SI has really tested my patience and understanding of others, especially at GCC with such an extreme range of student types," she said. "But the end result of a student growing to their potential and helping the instructors is the best reward for being a supplement instructor"
"As a student, Tina has proven herself to be focused and inspired. She challenged herself in every aspect of her studies, which resulted in both personal and educational growth. As an SI, I could not ask for a better assistant," said dance instructor Robles. "Tina demonstrates great compassion, patience, and understanding when working with these students."
Although dancing and filmmaking is a big part of Sinlapasai's life, friends and family are the most important to her. She's recently become enthralled with cooking, and especially if it means she gets to serve those who are closest to her. "I am satisfied when I see people being nurtured with my food and hospitality, and it's my way of sharing love and giving them value," she said.
Cooking for her cast and crew during film shoots is something she also enjoys, and explains it's the least she can do for them while helping her with her projects. It may not come as a surprise that culinary arts would be part of her non-profit arts program for rehabilitation.
Aside from filmmaking, teaching dance, and cooking, Sinlapasai has one final statement to make. "It's okay to be silly and not perfect," she said. "Acceptance of yourself, flaws and all, can make you more comfortable and confident in all aspects of life."
Through all her encounters, good or bad, the young dance filmmaker never fails to express the human characteristics of love and respect. "A small act of kindness can go a long way, and that goes for everyone, and everything," she smiled.