We Rise Los Angeles
Changing lives and minds by paying it forward with love and kindness
In the age of social injustice, shootings, #MeToo, bullying and mental illness, many don't know where to turn to for help. Often confused, sometimes hopeless, too many individuals take the low way of alcohol and drug abuse as an escape from the demons they're fighting.
With May being Mental Health Awareness Month, activists, athletes, artists and other community members came together in the heart of Los Angeles, for an empowering event to support the cause of mental health and the stigma that comes with it. The event was backed by the Los Angeles County Department of Mental Health and gained support from the Mental Health Services Act.
On May 19, the event kicked off with a rally, and instantly gained the popularity of visitors, becoming a safe platform for individuals from all walks of life to come to and share their own struggles.
How many times have you crossed paths with a person and judged them just based on looks? How many times have you judged any one person, detaching them from feelings and characteristics specific to humans? Judged without thinking about the effect your comments or behavior can have on this individual? How many times have you treated a person like a senseless, unimportant thing?
It can be the smiley classmate who brightens up the day or that charismatic barista at Starbucks. Perhaps it's your little sister who always finds herself most comfortable underneath her thin bed sheets, shielding herself from the difficulties of the world. As an escape, she listens to the melancholic tunes of an old Harry Styles song. She spends a bulk of her time on social media, lurking through happy profiles of people she doesn't even know.
She finds it oh so hard to share. Share her feelings and things she thinks about, regardless of who stands before her. She hates going to family gatherings because just about everyone around that roundtable judges just about everything she stands for. A sense of disbelonging takes over her innocent little soul.
In a crowded room, she somehow finds herself singled out. To protect herself from the devils of others, she builds an imaginary wall between her feelings and actions. She builds it up so high that at times she is unrecognizable. She acts like she does not care. You will soon learn that it's all just an act.
You often wonder why she is so hard to deal with. Why she is so picky. Why she is so problematic. During small fights, you ask what's wrong with her. You call her a psycho, once again neglecting the fact that she is just a human, with feelings and typical human sensitivities.
She piles the stress on and on. She piles it on so much until it spills. And when it does, it turns into a hot lava of words and pain. It takes over your world.
You wish you had been more kind. You wish you had listened and supported her more. You wish you understood. Then one day you learn that she is not 'the problem.' The problem is the society. The standards, the stigma, the judgement.
All along, it was society's fault. And you contributed.
You are the society.
You've too busy judging her. Not the way she looked or the way she talked. It was more like what she stood for. Her beliefs, likes and dislikes. You ignored her strengths, and focused on her weaknesses.
You broke her down, just as you advised her to stand up for her beliefs. And as her hopeless tears came streaming down her cheeks, you found it beautiful. You found her pain beautiful.
You will soon learn: Pain is not beautiful. Misery is not beautiful. Watching someone suffer is not beautiful. Making someone suffer is not beautiful.
The one thing beautiful in this is seeing the aching little flower blossom again. Seeing her rise beyond her powers to show the world that she is no longer misunderstood, but Miss Understood.
Mental health— a topic too taboo.
Should it be, though? When will we, as victims and perpetrators of an unjust society realize that enough is enough? When will we realize that mental health matters just as much as physical health?
The cause, the problem, the solution.
I was one of them. I used to ignore the problem so much, until it hit people I know and love. So I went searching. I searched for ways to communicate, support and understand the outcries of these persons.
Imagine what it's like to battle with your own mind on a daily basis and have the society dictate its ideals, at once. It's like being stuck between two pushing forces and you can't do anything but to explode. Explode out in tears and sadness. That's how it's been described to me.
And just as I was failing to support those who suffered, I was told about project We Rise.
Performers at the opening rally of We Rise included Common, Ty Dolla $ign, Vic Mensa, YG and the Jabbawockeez dance group, which led a dance class on May 27.
On their long list of events, We Rise kept it real, raw and interactive. Each day was dedicated to covering a different issue under the mental health umbrella. Sessions spearheaded by experts tackled everything from concerns of mental health, displacement, suicide, bullying and the big problem of systemic incarceration in this country.
Often diving right into panel discussions with famous athletes and singers, Q&A series and film screenings, We Rise became so popular that they announced an extension of the original 10 day event, to 20 days.
Twenty days of art and fun in an atmosphere where people just "get it."
Giving a special spotlight to the youth, Teen Town Hall provided an open space to easily discuss questions of personal identity and overall health. "Survival Guide to Adulting," was a fun workshop, where guest speakers offered strategies on how to cope with stress, interpersonal relationships, responsibility and the newest of all, FOMO or fear of missing out.
To increase interaction, the agenda of daily to-do's stretched as far as out as sports with some of the most loved athletes. It was a Mind, Body and Sports festival beyond the gates of We Rise, where participating athletes such as Jay Ajayi and Kobe Bryant, Shawn Johnson and Aja Evans, played around with children and adults. This was followed by a much-needed yoga session.
Considering art and creativity as a form of self-care, the We Rise building holds some true gems that address social issues. To challenge the creativity of others, there were guided art making sessions in this very spot.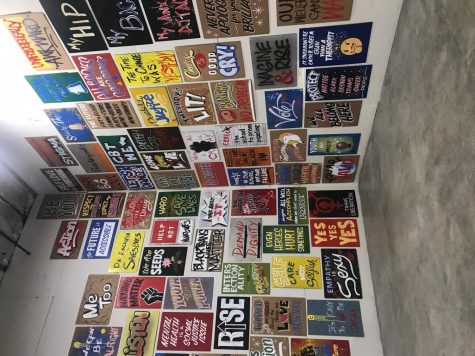 The gallery of We Rise is nothing short of miraculous. Yosi Sergant, an activist, who is one of the main organizers, helped put together the art of over 100 talented artists. Chelsea Wong and Guillermo Bert are just to name a couple of them.
Upon walking in, one comes across some of the most beautiful, conceptually appealing and relatable art pieces. The hustle and bustle of the city of Los Angeles is left outside at the doors, bringing a total zen to the visitor.
Each room of the building represents a different dispute within the society. Stretching from anxiety and stress to art dedicated to rape survivors and empowerment of one another.
The message behind We Rise was to create a safe environment, city and world for those who need the comfort of others. And having a big population of individuals dealing with an array of mental health issues, it is safe to say that We Rise is exactly what the the city needed.
Marian Sahakyan can be reached at [email protected].