Above Politics, Story of a ReLOVEution
How one person changed the attitude of an entire nation from 'victims' to 'winners'
On March 31, he gathered his thoughts, his soon-to-be revolutionary comrades and embarked on a journey, many believed would fail.
For the next 14 days, the group would walk some 200 kilometers, covering villages and towns stretching between Gyumri and Yerevan, the two largest Armenian cities.
Nikol Pashinyan, 42, believed that people reserved the right to elect their own officials and leaders and for the past 20 years of his career as an investigative journalist and politician, he spoke up against the corrupt, authoritarian leading regime of Armenia.
The fact that Pashinyan was an oppositioner became clear at a very young age. His kindergarten teacher described him as an outspoken young man, who often turned other students against supervisors.
As his father, Vova Pashinyan contested, teenager Nikol organized anti-Soviet rallies in their small hometown of Ijevan, talking about his hopes of one day bringing Armenia to its own free state.
As a journalism student at Yerevan State University, then 20-year-old Pashinyan compiled screeds exploiting the corruption that rich politicians and businessmen often engaged in. As a result, he got kicked out of university in 1995, failing to receive his red diploma.
This did not stop the man's agenda, as he was setting himself up to change everything.
At war with fraud
Pashinyan's battle with the Republican Party of Armenia started many years ago, though took its highest peak in 2008, when Serzh Sargsyan ironically earned the people's vote in a fraudulent election, taking the title of president. The future was not looking too bright for the country, to say the least.
Pashinyan got involved with other opposition leaders and started to organize peaceful rallies against the newly elected president. All of this went downhill on March 1, 2008. The date became a dark day of history in the ex-Soviet country, as 10 people died in clashes between police forces and supporters of the defeated candidate.
Pashinyan's name became closely related to the tragic events of that day as authorities accused him of seeking to seize power, by the provocation of mass violence. Of course, these were accusations that were not true.
After hiding for months, the activist turned himself in, creating one of the most controversial cases of political imprisonment. From 2009-2011, he spent time in jail, next to criminals and killers, but was let out under a prisoner amnesty scheme.
He was elected into parliament the next year in 2012, and has been fighting against corruption since.
Transparency
As previous administrations spent country money on fancy vacations cars and homes, making it none of the people's business about where this money came from. Pashinyan came in and took this by storm and proved that people do have the right to know it all.
During the recent movement, which he called a 'Velvet Revolution' people donated money to be used for the moment. What Pashinyan was out to do next, left the people nothing short of shocked and surprised. Pashinyan and his team put a list together of all the donated money and where it was spent. They later published these on Facebook and other media outlets.
When he was announced prime minister of Armenia, after the month-long successful peaceful protest movement, Pashinyan got to work. He went live on Facebook and showed the people everything that his new office featured.
This had become a tradition since the early revolutionary days, or rather an expectation that the prime minister would go live on Facebook to talk, announce his plans, tell success stories and catch up with the people.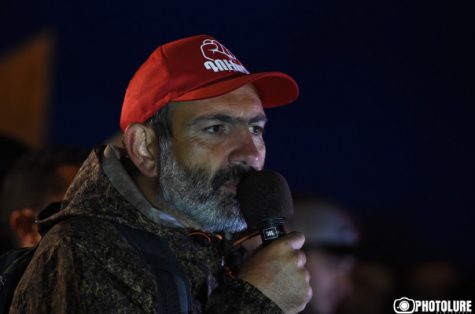 The people's man
Walking so many kilometers under the sun, he had shed his beer belly quite a bit, gotten a nice tan and a beard. The 42-year-old now rocks a new salt-and-pepper beard, which surprisingly made him more approachable. People even launched a campaign to encourage him to keep the beard, which he did during the past week of his time in office.
His signature camouflage t-shirt, baseball cap and rucksack became a symbol of revolution. His incredible sense of humor allowed for media to take a tour of his backpack. As he described, it had everything he would need. Things like medicine, his laptop and a powerbank phone charger, so he wouldn't miss a Facebook live with his people.
He walked alongside with the people and didn't put himself before anyone. Even as a prime minister, he often walks around the city, to make sure he has direct contact with the Armenian citizens.
He used social media to promote the movement and his plans to the younger generations. He told the people when he made a mistake, along with his ups and all the downs.
Pashinyan became the people's prime minister far before he could get the official title. His charismatic, funny and very simple character, shaped the new Armenian soul, an identity. That of a winner.
The future
As previous administrations came and went, leaving a large negative impact on the people of the country and its economy, Pashinyan is slowly restoring what was lost.
Inviting Daron Acemoglu, a world-renowned economist, to come up with strategies to not only save but to grow the economy.
On multiple occasions, he has addressed the Diasporans, encouraging them to start investing money in the country. He also promised that these people, who were forcibly pushed out of their country, due to economic, political and household instability, will come back home, to a new Armenia.
"I am serving the Republic of Armenia, and the people of Armenia," he said during his first speech as newly elected prime minister. "Your victory is not that I became prime minister, but the fact that you chose who did."
All eyes in the world are on Pashinyan, as he makes important changes to the far-too-corrupt system that he was handed. In the past week, he has gotten rid of old ministers and assigned young, innovative and smart individuals to these posts.
As we all sit in our homes and watch what goes on, we must realize that this is just the beginning of the big Armenian revolution and hope for the best for where it is headed.
Marian Sahakyan can be reached at [email protected].