From GCC to the Peace Corps
Former staff member in Mozambique, where he teaches English
Nicholas Martinez is driven, so much, in fact, that after graduating from UC Santa Cruz, he came back to Glendale Community College in order to pick up new skills. At only 24 years old, his drive to give back to his community made him embark on a journey that he never once thought he would make — one across the ocean. Martinez has always had a passion to educate. Specifically, he wanted to help those without opportunities. That was what made him join the Peace Corps. He is now stationed in Mozambique, Africa where he teaches English to eighth grade students.
He explained his drive and his current mission to El Vaquero in a recent interview.
1) What made you decide to join the Peace Corps? Was it something you thought of on your own, or were you introduced to it by someone else?
I wanted to join because I studied abroad in Africa while I was a student in Santa Cruz. While studying abroad in a foreign country, I felt like an outsider. I was an American living in a whole different country, and not able to integrate with them or anything. I was simply visiting,0 while at the same time finishing up my school term. With the Peace Corps, however, it's different. One of the principal requirements is that you integrate with your community, such as learning the language, the culture, meet new people, and their social customs. In other words, engage. That was something that made me want to join and explore, as well as the idea of serving my country. Obviously I didn't want to join the army, but I realized that I could serve my country in a whole different way, and it was through Peace Corps. Not only do I get to give back through my service, but I also get to demonstrate how much culture America has.
2) What did you major in?
I graduated from UC Santa Cruz in Anthropology. I enrolled at GCC shortly after returning home, and got my AA in journalism. I went back for journalism because I fell in love with journaling during my fourth year at Santa Cruz. I had joined a press collective club called TWANAS (Third World and Native American Student Press Collective), which talked about social economics, race, and politics. I fell in love with the asking questions and finding out the "why" and I realized that journalism was something I was interested in. It came naturally to me.
3) Since the beginning of your teaching at the Peace Corps, what have you accomplished so far? What are you most proud of?
I'm really proud of my students. They are learning slowly but surely. In the beginning they were a little scared of me, given that over here I'm this tall "white" man. I was this large strange man whom they've never seen before and was there to teach them English, so it was a bit difficult to interact with them at first. Obviously I'd never done anything like this before so you don't know what to expect. Now they're participating, and wanting to learn, and I can feel them thinking, as I'm teaching. I feel them trying to learn what I'm thinking, and that's what is important here, because as a peace corps member, I'm here to teach them something new and slowly we're getting there.
4) What motivates you to keep going?
My students motivate me. I've had a lot of issues with staff and neighbors. What keeps me going is these kids and making sure they see that I want them to learn, and that I'm not giving up on them. I want to show them that I'm here to stay whether they like it or not. Seeing them learn something new and how proud they feel, inspires me.
5) What has been your hardest challenge so far?
I think my hardest challenge has been finding a community here. Integration is a slow process, it's not something you can just jump into or rush. It's happening, I know they want me to be well, but the language barrier is a bit complicated at times. It's all a matter of them getting used to me and warming up to the idea of having someone new around. The hardest challenge is being able to find happiness in the little things. I have to remind myself of that every day, to be kind to myself, and simply celebrate the little victories in life and not be too hard on myself. The rest comes in time.
6) What advice would you give to those who are planning on doing something similar to you or are afraid of venturing out of their comfort zone?
Honestly, I say just do it. I don't have any grandiose wisdom. That's what motivated me to apply. I told myself "you just have to do it" and I did. It's easier said than done but before anything, definitely do your research and understand that you're going to be pushed to every limit possible but it'll be fine. If you really want to understand a different country, a different a culture, or find something about yourself that you probably didn't know, then the Peace Corps is probably an option for you. I will say though that there's no better feeling than giving back and knowing that your service is making a difference in someone else's life. That feeling is always rewarding.
Martinez is currently entering his seventh month of his Peace Corps service in April. He is scheduled to be in Africa for another year and a half before completing his mission. As far as for what the future holds, he's in between applying for grad school or continuing to teach in other areas of the world. He's interested in teaching primarily in the Middle East such as Saudi Arabia, United Arab Emirates, Lebanon, or Israel.
"I don't have any regrets at all. This isn't a vacation or traveling or wondering around," he mused. "I have a job and I have responsibilities to not only the community but to myself and to the school. It's not easy. Some people come into this thinking its easy but its not. It's so much hard work but worth it in the end."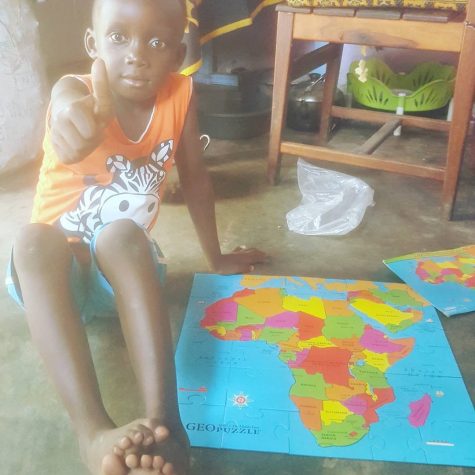 Catalina Juarez can be reached at [email protected]