GCC Celebrated with Filipino Fiesta
A new tradition shares history and culture of the Philippines
One week before spring break, approximately 500 GCC students, faculty, staff, and guests got to enjoy a touch of Filipino cuisine and culture on campus. Arranged by Filipino-American staff, faculty and administrators, and cabinet members of the Filipino Club "Phamilya," this was the second year that a Filipino Fiesta was held on campus. "It was an absolute success," says professor Hazel Ramos.
Ramos is a former GCC student herself, and now works fulltime at the college. She is also the faculty advisor for "Phamilya," and the lead organizer for the Filipino Fiesta Planning Committee. "The Filipino Fiesta was an incredible demonstration of community bonding and a profound experience as a Filipino-American to see so many people interested in our native culture."
People got to enjoy typical Filipino food. Lechon, which is roasted pig, pancit (Filipino noodles), and egg rolls, called lumpia were only a few of the many dishes. There was also a variety of desserts and snacks, such as; pichi pichi (grated cassava and sugar topped with grated coconut, a rice cake with taro called puto ube in Tagalog, and of course the world famous Filipino dessert "halo-halo," which is shaved ice with evaporated milk, with a mix of toppings.
Despite the two long lines to the entrees and dessert, people were not bored, as they got to enjoy exhibits made and brought by faculty members, to showcase the diverse culture and history of the Philippines. Guests could also listen to Filipino-American jazz singer, Charmaine Clamor, who performed at the fiesta. It was a wonderful addition to our event, says Ramos.
"Phamilya-"cabinet members, who helped serving their peers and professors, had a surprise for the event. Thanks to them, and the Pilipino Workers Center, a jeepney, a typical Filipino public transportation, was showcased right outside of the Sierra Vista building. The bright colors and the unique style got the attention from passing students.
The goal of the Filipino Fiesta was to share Filipino-American culture and history. "It is part of our larger effort to empower GCC's Filipino-American students," says Ramos.
Ramos continues to explain that she is honored to work with a group of talented and dedicated students who want to enrich their academic experience through their involvement with the Filipino-American community. "It is very exciting to know so many motivated students who are driven to help others."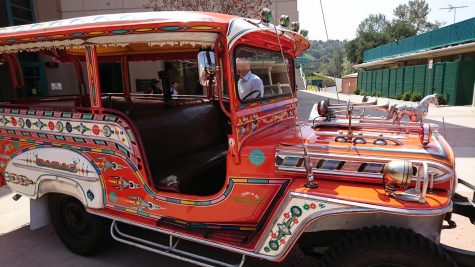 James Ojano-Simonsson can be reached at [email protected]