Crossing Country
About a month ago I was told about a student named Akol Malong. All I knew of him was that he was an athlete on campus with a story which couldn't be missed.
With little knowledge in my brain, a voice recorder in my hand, and lots of questions scrabbled on my paper, I met with Akol.
I nervously approached him in front of the Verdugo Gym, and we instantly clicked. We talked about the semester, his classes and work, you know, just some small talk. We made our way to the bleachers and that is where it all started.
At first, he seems like a typical student athlete. With a busy schedule. Numerous classes. Weekend jobs. Multiple inspirations. Lots of dreams. And one big story.
Akol Malong, a business and software development major at GCC, has been through more than what most college students can claim.
He told me the story of how his parents escaped the Sudanese Civil War by relocating in Ethiopia where they could start a future. Soon after, they gave birth to a baby boy, they named him Akol, which meant 'sun' in their language. He became their sun, the center of their world.
When Akol was three, his parents decided to move to a place where they will have more opportunities to grow as a family. So they did what made sense. They packed their belongings and off they went to the land of opportunity and freedom; the United States of America.
As they settled in the place they now got to call home, the Malongs gave Akol the ultimate gift of any young child: siblings. In his case, Akol got two; a brother and a couple of years later, a sister.
Unfortunately, the Malongs never reached the American Dream as a family and before they knew it, everyone's lives were about to take an unplanned route.
One call from the doctor changed everything and from there it all started to go downhill.
Akol's father was diagnosed with lung cancer; his mother was unable to take care of all three children and a sick husband. As a result, the children were put in foster care. Akol was only 10.
After bouncing from foster home to another for some time, Akol and his siblings got the news which everyone dreaded to hear. Father Malong had passed away.
He recalls attending the funeral, describing the experience as 'hard and upsetting.'
After the father's passing, Akol's sibling clan was divided as each child was taken in and with time, adopted by different families.
Through light and dark, dedication and perseverance never left Akol's sight as he powered through his experiences and came out stronger and wiser with every step.
He found his form of therapy and escape in the cross country tracks. When his father passed away, the then twelve-year-old Akol started to run. Soon enough, he found a passion for himself: running.
"I just wanted to go clear my mind off things,'' he told me. "Then it felt good after a run."
Though his main sport is cross country, the young athlete has a long list of interests in sports stretching back to basketball in elementary school, track and field in middle school and football in his mind.
During our conversation, he laughed as he talked about all the times his mother jokingly discouraged him from getting into playing football.
"I wanted to do football, my mom always said 'no you are not big enough,'" Akol smiled.
Though in the process, Akol and his biological siblings were separated, he started to form a strong bond with his adoptive brother. They connected over sports and every other thing boys care about. They became the perfect pair.
After living with his adoptive mother and brother for nearly five years, the family decided to move west to California to start a new life here. Akol started attending Hollywood High School and joined the cross country team there, which is one of the reasons why he ended up in GCC.
It was another Saturday morning for head cross country coach Eduardo Lopez, as he went to Elysian Park near the Dodger Stadium in Los Angeles, to watch and recruit runners during high school meets. Lopez was immediately struck by Akol's speed and talent in running. Without wasting too much time, coach approached him and just like that, the two bonded like no other.
"When I talked to him [at the meet] he was very passionate about running," Lopez said. "I told him about my experience at Hollywood High and that I came to Glendale too, it would be a great fit for him. We connected that way."
A few months after meeting coach Lopez, the newly high school graduate started practicing with the GCC cross country team. He describes GCC as his 'second family.'
Soon after his decision to join the Vaquero family, Malong became a rather important name in the team. He now stands as the fifth best runner and has assisted the team to many wins in different invitationals and meets.
"He has the talent and a lot of potential," Lopez said. "He's fighting for our top-five position."
As running became a big part is his life, Akol reconciled from all the things that went wrong and focused on the things that are going right.
When asked about the effect his unique experiences had on him, after a long pause, he responded, "both, good and bad."
He couldn't help, but get a little more serious and emotional when asked about his biological parents and the family that drifted apart.
"Being together as a family is what I miss and remember," he sighed.
It's been a bumpy road for the athlete to get to where he is today.
It took him four foster homes, four states all the way from Tennessee to Texas to Nebraska and lastly to California of some-good and some-bad experiences to finally find a forever home for himself. And at last, Akol was taken in by a family who gives him the love and appreciation that he deserves.
He later told me that right when he was on the verge of starting a new life in California, he was told that his biological mother, too, had passed away. He never found out how she died.
Once again, he turned to running as a way of healing the feelings he couldn't control.
"I used to be angry," he said. "About things that didn't really mean much and now I'm just more accepting of it."
Like any eighteen-year-old, Akol has dreams. Dreams of obtaining a college degree, starting up his software development business. And last but not least, he hopes to pay a visit to his little brother back in Nebraska upon the completion of his college degree.
Through his eyes and smile, I saw struggle and pain, but most of all, I saw success. I saw life in his eyes.
When I left the interview with Akol, I was no longer nervous, but inspired. I didn't meet a 'typical student,' I met someone who has been shot down more times in his 18 years of life than imaginable. If he can do it, what's a typical student's excuse?
Nobody is an ordinary student. Ordinary human. Or anything ordinary. We all have a story worthy of being told, and a voice which needs to be heard.
About the Contributors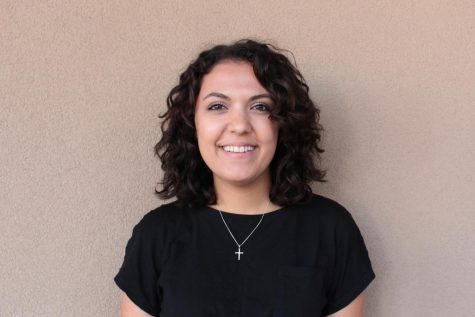 Marian Sahakyan, Editor-in-Chief
Growing up in a big family of journalists and writers, Marian developed her love for writing and reporting since early childhood. She is often found in...