'The Girls in My Town' Wins Prestigious Award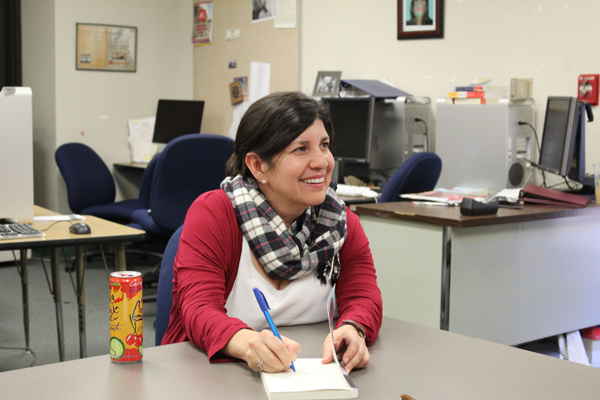 Angela Morales was teaching her English 102 class when she happened to glance at her email. To her surprise, she had been nominated for a prestigious PEN America award for her collection of autobiographical essays,  "The Girls in My Town,"
"I was shocked," Morales told the staff of El Vaquero during a recent visit, "and I did not know I was up for the award."
That was just the beginning. She next found out she had won the award — and the $10,000 prize — joining the ranks of Joyce Carol Oates and Peter Singer. The award is for an outstanding book that exemplifies the dignity and esteem that the essay form imparts to literature.
"I did not expect I was going to win," she said "More importantly, my mom got to see it."
The PEN award ceremony was March 27 in New York. Morales's mother, so much a part of her book, was among those attending.
Writing has always been a passion for Morales, but she explains that she did not start publishing until this book.
"It took me all those years of teaching English, grading papers and suffering through not writing to then one day deciding I think I am going to do this," Morales said.
"The Girls in my Town" is moving, filled with dark humor, and extremely personal. It creates an unforgettable portrait of a Mexican-American family in Los Angeles.  NBC Latino News described the book as "an honest look at the rich experiences of girls trying to make space for their intelligence and imaginations."
Morales recounts her time growing up in Southern California, her father's appliance store, joining a bowling league, teaching writing. She does this by positioning her stories around the "girls in her town," including her sister, mother, grandmother, school friends and her own daughter.
She reaches as far back to her grandmother's childhood and reflects on the journey of her own girlhood. Morales explores moments of loss and longing, truth and beauty, and motherhood and daughterhood, combining both a coming-of-age story and a journey of how a writer discovers her voice.
She used what writers call composite dialogue to recount these stories.
"I had to approximate the discussions. I did not want to embellish any of my memories and I tried to stay true to the fact of my memory. Memory is so incorrect," Morales said .
For each time frame, Morales would research the particular year and see what was going on politically or what the top songs were in that period.
"I try to put myself back in that time as much as possible," she said.
She was not only inspired by her family, but also by the students she gets to teach on a regular basis.
Being a full-time professor at GCC, she has seen an array of experiences from her students.
"Students write about immigration, struggles to assimilate, and they are writing these beautiful sentences that inspire me everyday," Morales said.  "Also, students with disabilities. I have one student who is blind and almost deaf. He is still cranking out essays for my English 101 class."
She thought that her dream was to sit in her room by herself and just write all day, but that completely changed when she started teaching. w
The students she comes across every day inspire her to write about her own story and reflect upon the people around her.
"I love teaching at the community college level," Morales said. "We have people here from so many different cultures and they have such great stories."