Engineering Student Interns at NASA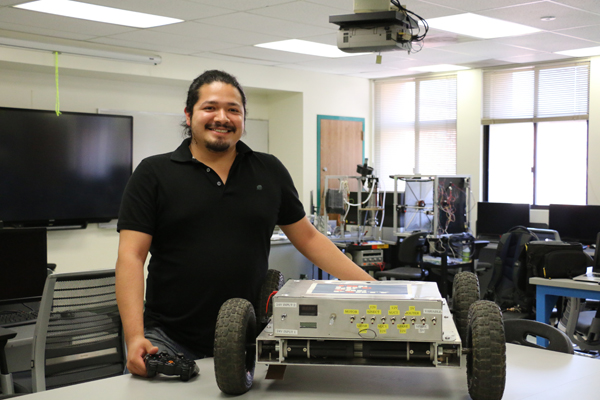 When Enrique Cernas first walked the halls of the GCC engineering department in fall 2015, he felt overwhelmed and intimidated by what he thought was how much smarter and more experienced other students were.
But with the help of his professors, the support of his classmates, and a tremendous amount of hard work, Cernas is making strides to brighten his future and make himself a competitive force in the world of engineering.
In fall 2016, Cernas was selected to be a part of the NASA Community College Aerospace Scholars program.
The purpose of this program is to give STEM students at community colleges an all- encompassing NASA experience. To start the process, students have to complete a five-week online NASA course.
Cernas is a first generation Latino student who never really felt like he had the skills and resources to study engineering. Only 22 percent of Latinos graduate with an engineering degree within five years, according to the Higher Education Research Institute at UCLA.
"I started out in college-level algebra at GCC and in high school, math and science were not my strongest subjects," Cernas said. "I did not think that engineering was something that I had a future in.
This course's theme was centered around NASA's "Mission to Mars."  Participants learn about the history of space travel and the different mechanisms in building a Mars Rover.
After successfully completing the five-week course, there is a competition of sorts.
The instructors of the program challenge the students to plan a mission to Mars. From all the material that they learned during the course, Cernas had to put together all of his course material and think of ideas as to what an expedition to Mars would look like.
"It was a lot of hard work and did not know what to expect," Cernas admitted. After all this hard work, it finally paid off. Cernas was chosen to participate in  the next phase of the program-the "on-site experience."
This experience includes four days at the Jet Propulsion Laboratory (JPL) in Pasadena. At JPL, Cernas and his cohort received private tours and met with engineers and staff members who discussed life at JPL and what it takes to make it in this industry. There was also a robotics competition.
The competition was the focus of the on-site experience. Cernas and the group were split up into different teams of about 40 people. The task was to design and build a miniature rover that would be sent to traverse the Mars landscape.
"I learned new skills and how to work in a team," Cernas said "My team did not win, but I was awarded the MVP award for my performance in the competition."
This program was one of the most rewarding experiences for Cernas. He made great friendships with people in his cohort, built relationships with the staff at JPL, and has been pursuing future internships.
Cernas is also working hard to continue this momentum and his future looks bright.
Professor Christopher Herwerth discussed Cernas' work ethic and dedication to the engineering program will make him a strong applicant for future programs.
"Enrique gets to the lab early and works on homework until late. He is willing to put in the work and and struggle and fail," Herwerth said. "These are the keys to success in the engineering field."
Cernas is working on getting an internship with JPL this summer and planning to transfer next year. He plans on studying engineering and eventually wants to pursue a master's or doctorate degree.
"I am passionate about space and space exploration. I hope to eventually be working on projects that will bring humans to become an interplanetary species," Cernas said.