School of Rock: Students and Faculty Drum to the Beat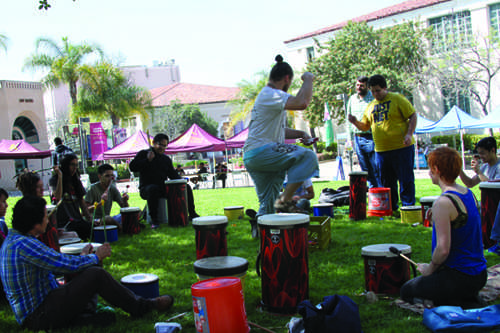 Music and dancing filled Plaza Vaquero on March 16 with the help of Rumbling Rhythms instructor Alan Bruni.
Bruni was invited by a student on campus to help relieve stress from the current semester.
"I was invited to play drums for a stress-free enviornment, but playing alone is boring," Bruni said.
He invited students and faculty roaming the campus during lunch hour and started a little drum circle.
Bruni not only plays for college campuses, but also preschools, youth groups and parolees.
Rumbling Rhythms strives to create a space to have their "feelings express the music."
He left instruments around Plaza Vaquero so that if students didn't feel comfortable to join the music circle, they can have their own fun.
Instruments included buckets, drum kits, water bottles, glass bottles, and homemade shakers.
Bruni continued with the drum-off after lunch, with bystanders joining for a total of two hours.
"I want to leave my participants with a new language of expression, rhythm," Bruni said.