Give Something Special for the Holidays This Year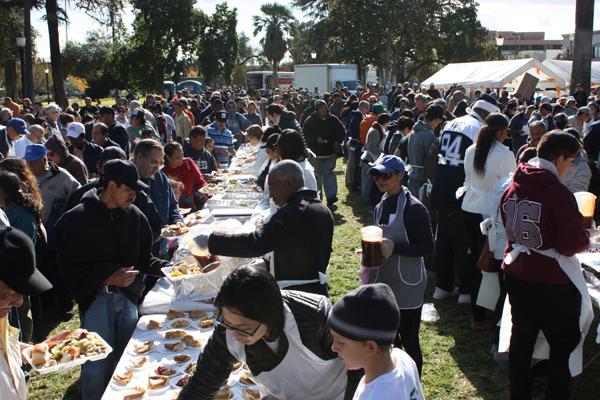 Morgan Stephens & Sheron Page, Staff Writers
December 9, 2016
The holidays are a perfect time for giving and not just in the sense of perfectly wrapped boxes with bows underneath the Christmas tree.
One way to make the most of your holiday season is to volunteer around Los Angeles for those in need.
If funds are tight, or if you just want to give back to your community, volunteering costs nothing and can mean everything to somebody who has less. The smile of a child's face after receiving a Christmas gift, or knowing that you helped provide a meal for someone who would've gone without is priceless.
Here is a list of some of the volunteering opportunities Los Angeles has to offer around the holiday season:
LA Works, a non-profit action center that helps to organize and increase volunteer participation, has made a one-stop calendar for volunteering events in December.
They have scheduled food drives, after-school homework clubs to provide children with a safe and educational environment to help them with their academic needs, reading aloud to children, and a Christmas toy giveaway, among other things.
"What we provide at LA Works is a full staff of individuals that seek change in growth to the human mind and body," said Kami Brumer, LA Operations Manager. "We may not be seen in the public eye our duties behind the desk are still to provide services to the needy."
To visit LA Work's opportunity calendar, visit: http://www.laworks.com
Silverado Hospice in Burbank offers opportunities for volunteers to provide comfort to individuals and families reeling from terminal illnesses. As a hospice volunteer, you can participate in bringing flowers to patients twice a month, creating aromatherapy products for patients, and visiting patients for emotional support.
Union Station Homeless Service has worked for 40 years feeding the homeless and helping the Pasadena community. They will be providing meals for the homeless and low-income families on Christmas Day. You can register to volunteer on their website: unionstationhs.org/help/volunteer.
If you are away from your family this holiday season or just want to spend Christmas day helping those in need, you can sign up to volunteer. The event takes place Dec. 25 from 11a.m. to 2p.m.
One Voice LA is a non-profit organization which helps families living at poverty level within their community. Their holiday program provides Christmas food baskets, toys and books to 2,500 families living in poverty in the Los Angeles area.
Each child receives a book and toys given personally by Santa and every family takes home a basket overflowing with the ingredients for a holiday meal: a turkey, rolls, carrots, squash, potatoes, yams, onions, and a fresh apple pie.
To volunteer for One Voice LA please visit their website to see their schedule at http://onevoice-la.org/volunteer/.
For those with a soft spot for animals, many shelters need additional volunteers around this time of year.
LA Animal Services is holding orientations for volunteers to get started all throughout Dec. 8, 14 and 15. To inquire about volunteering for LA Animal Services, please visit http://www.laanimalservices.com/volunteer/.
Toys for Tots another non-profit organization has been providing less fortunate children with toys, winter wear and a Christmas to remember for over 60 years.
There is toy drop-off location in cities across the nation. All toys collected within the Los Angeles area will be distributed through local Salvation Army Community Corps. To find out where to drop-off and the list of toys requested visit toysfortots.org.
The holidays are a wonderful time for relaxation and rejuvenation, but also a time to show our compassion and provide a little joy to somebody who needs it.