Retired Professor Pedals for Haiti Relief Funds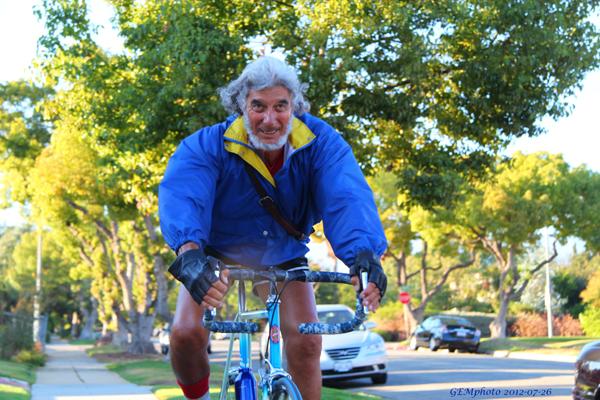 Preparing for a 500-mile bike ride on Dec. 3 from Alhambra to San Luis Obispo and back, 72-year-old Carlos Ugalde will make the seven-day trip alone for donations and sponsors to raise funds for victims of Hurricane Matthew in Haiti.
This is not the first time Ugalde will ride for a cause. In 2012, he rode for about 500 miles from San Francisco to Alhambra to raise funds for the 2010 earthquake that ravaged Haiti.
Ugalde is a retired Glendale College professor who taught Latin American and Latino studies from 1980 to 2008. He has always been involved in promoting Latin American culture and educating people on the historical, political and social struggles of Latin America. He has traveled numerous times to 19 Latin American countries, helping out and documenting the stories of its people.
In the 1980s and '90s, he contributed by sending in reports to Radio Pacifica KPFK in Los Angeles, which allowed him to be in the heart of historical events in Latin America. In 1987, his photo exhibit at the Los Angeles City Hall was greatly frowned upon by politicians.
It featured war photos from Central America including women crying over their dead children. The captions of the photos drew the most controversy. One photo's caption said: "Mother mourns for son killed by Contras, Reagan's army." He had done numerous exhibits in the United States, Mexico, Cuba and Spain.
In 1981, he started the Association of Latin American Students (ALAS) on campus. Ugalde explained the history of this group and where they got their name.
"I have to remind people that 'Hispanic' does not do it," he said. "We come from a region of Indian, African and European – 'Indo-Afro-Euro-America'. The 'Hispanic' term robs the possibility of understanding and appreciating the enormous volumes of history and culture born out of results of the 500 years of racial mixture and struggles so unique in the vast area of what is Latin America."
It is a group of students involved in the social, political and cultural affairs of Latin America.
"It is important to have a group of students – Latino students – taking care of social issues, deal with political issues and work in the community," Ugalde said. "A group to give solidarity to one another and get to know each other, to be able to express themselves and go beyond just simply the classes."
The group was an active presence on campus organizing forums, protests, fundraisers as well as cultural and community events.
"I liked the idea of joining a multicultural group with students coming from different countries and of diverse backgrounds," said Vania Arauz, former GCC student and ALAS member. "It definitely helped create lifelong friendships which have lasted for more than 16 years. It also helped me have a broader view of the world through events such as the film festivals and Bohemian afternoons."
According to Ugalde, ALAS has always aimed to "offer greatly needed historical and cultural background and intellectual stimulation with the hope of giving greater appreciation and understanding of the human condition and daily struggle of Latin Americans south of the border."
"Professor Ugalde has been an inspiration to me because his dedication and passion to developing educated critical thinkers has not been an easy task," ALAS member Lissinia Aguilar said. "He had to go against the rules and norms imposed by this society in order to spread his message and make his voice heard. He has devoted his life to helping students become cognizant of the history, struggles and contribution of Latinos and their culture to the US society from both social and political perspectives."
With his retirement in 2008 and no one willing to step up and be the adviser of the club, ALAS was disbanded on campus. But former students, colleagues and other comrades have found their way to Ugalde's home in Alhambra dubbed "Plaza del Che." They continue to meet and organize events outside the campus for eight years now.
Ugalde will set out for San Luis Obispo in the early morning of Dec. 3. On Dec 10, there will be a welcome reception at Plaza del Che that is open to anyone who wants to come.
Funds raised in this event will go to the Secretary of Support for the Community, a non-profit organization based in Haiti. The money will be used to purchase antibiotics and chlorine tablets to help fight the cholera epidemic.