'It Can Wait' Eyes on the Road, Not on Your Phone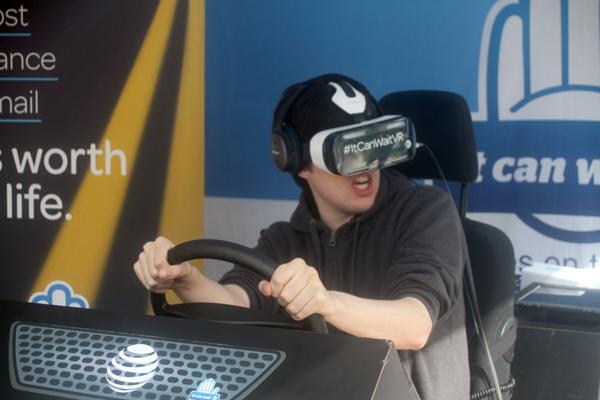 AT&T made a stop at Glendale College with its "It Can Wait" campaign that promotes "eyes on the road, not on your phone."
Camped out at Plaza Vaquero on Nov. 1 was a virtual reality system that simulates what happens when you text and drive.
Students were seated in a cardboard car with their hands on the steering wheel while wearing headphones and the virtual reality headset. This allowed them to virtually experience a car accident caused by texting behind the wheel.
"We want to save lives through education and awareness," said Christopher Johnson, AT&T's tour spokesperson.
The campaign started back in 2010 and they have been touring nationwide – offices, schools, and public areas – since 2013. The goal of the campaign is to inform people of the dangers of using their phone while driving.
Some students tried out the system while it was on campus.
"It was good," 19-year-old student Luis Segovia said. "I don't text and drive but I think it [the campaign] would be helpful because I see a lot of people do it."
"Intense," 20-year-old student Eve Zuiliani said. "I don't think I would use my phone while driving anymore."
People are asked to sign a pledge to never drive distracted after they go on the virtual reality experience. The company has gathered more than 11 million pledges nationwide.
Anyone can download AT&T's DriveMode application on their phones. This application silences incoming alerts and automatically sends a preset message when a person is driving.