GCC Hosts TECHNOLOchicas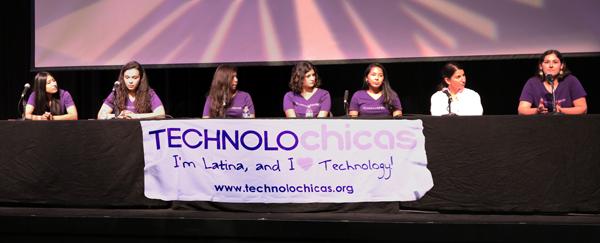 What if there were more women in technology? Glendale College's Aspire, Initiate and Master program hosted Latina Power in science, technology, engineering and mathematics (STEM) conference on Oct. 1. Over 300 middle school and high school Latina attendees were introduced to activities, TECHNOLOchicas, Microsoft, Apple, etc.
TECHNOLOchicas is a collaborative project designed to raise awareness among young Latinas and their families about opportunities and careers in technology.
"Statistics show that within the field of technology, only 25 percent of the tech industry is made up of women. Out of that, only 1 percent are Latinas," said Lolita Taub, keynote speaker from TEDx Women in Tech and Business. Taub focuses on including people of different cultures in the corporate world and has continued a career in the technology field.
According to a graph from the U.S. Bureau of Labor Statistics on TECHNOLOchicas.org, over a million jobs will be added in information technology by 2020.
After the presentations, groups were sent off to participate in hands-on activities from coding to robotics.
The conference emphasized the message to diversify and spread the word to young women and encourage all to explore the world of STEM.