Author Presents Pulitzer Prize-Winning Book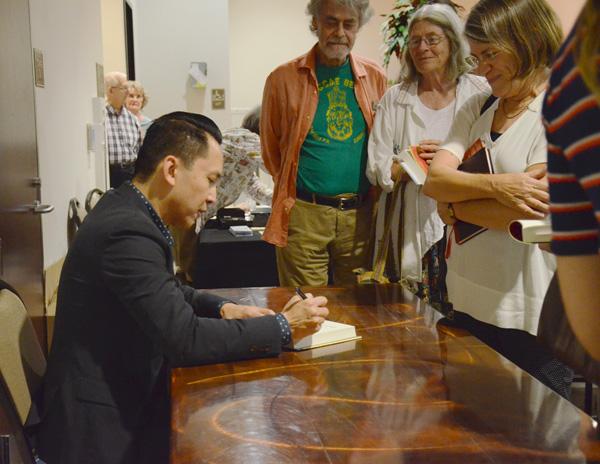 "I am a spy, a sleeper, a spook, a man of two faces…I am also a man of two minds." These are the opening words of the Pulitzer Prize-winning novel, "The Sympathizer," by Viet Thanh Nguyen.
The author read from his novel and answered questions from the audience in an event sponsored by Friends of the Glendale Public Library Sept. 29  at the Adult Recreation Center in Glendale.
Around 50 people were gathered in the lecture hall listening intently to Nguyen,  who was introduced by Friends events vice president Robert Gordon.
"The Sympathizer" is written in the form of a confession about an undercover communist spy working as a captain for the army of the Republic of Vietnam around the time of the Vietnam War. The action of the novel is after the war, when the Americans had retreated and refugees fled from the south. The narrator came with the refugees. He was a mole.
"It is autobiographical in a sense that I took my feelings of being someone who was never quite at home — someone who is Vietnamese, but also American," Nguyen said. "Growing up I felt like I was a spy, in a sense that when I was at home, I was an American looking at them as an outsider. And when I went out into the world, I was not quite American observing other Americans as a spy."
Nguyen was born in Vietnam, but was raised in the United States after his family emigrated in 1975. He arrived in the country when he was 4 years old, together with his parents and his 10-year-old brother. Back then, immigrants could not leave refugee camps unless they had sponsors or employers. With no one willing to take in a family of four, Nguyen was separated from his family and stayed with an American family.
He was reunited with his family in 1978, and his parents opened one of the first Vietnamese stores in San Jose, where he grew up. He graduated with degrees in English and ethnic studies from UC Berkeley, where he also earned a doctorate in English. He is currently a professor of English and American studies and ethnicity at USC.
Nguyen read excerpts from the book in a modulated voice, befitting the book's narrator, and talked about the film, "Apocalypse Now," and novels that influenced him while writing the book.
He talked about "The Invisible Man" by Ralph Ellison, a novel he encountered in college, which was  used to shape the "similar condition of ambiguity and racial invisibility experienced by the narrator."
"I think a lot of people who are immigrants or refugees or minorities feel that kind of outsider status wherever they go," Nguyen said.
Louis-Ferdinand Céline's "Journey to the End of the Night," a novel that was considered "vulgar and outrageous," was his model for some of the sensual scenes, as well as the pace of the story with the protagonist traveling from one place to another.
"The bitter, sad, melancholic recalling of the war" resonates with that of António Lobo Antunes' "The Land at the End of the World."
"So it was that we soaped ourselves in sadness and we rinsed ourselves with hope, and for all that we believed almost every rumor we heard, almost all of us refused to believe that our nation was dead," Nguyen recited the letter sent by the narrator to his aunt  in Paris.
"The Sympathizer" also depicts a satirical take on Francis Ford Coppola's 1979 drama  "Apocalypse Now." His novel criticizes Hollywood and its one-sided perspective in portraying the war.
"The lack of speaking parts for Vietnamese people in a movie set in Vietnam might be interpreted as cultural insensitivity," Nguyen quoted from his book. "Could you not even just have them speak a heavily accented English — you know what I mean, ching-chong English — just to pretend they are speaking in an Asian language that somehow American audiences can strangely understand?"
Nguyen also discussed  Joseph Heller's "Catch-22," which made an impact on how he portrayed the war by introducing humor to make it bearable, finding something funny in the absurdities of war.
At the end, he talked about the culmination of his novel and how "The Sympathizer" was brought about.
"You write and you read. There's no other mystery to it," Nguyen shared.
He was on a break from teaching when he decided to start writing the book. He wrote a chapter per month from 2011 to 2013, giving himself a deadline of up to his wife's pregnancy due date. Just in time, Nguyen finished the manuscript two days before the birth of his son. He used his paternal leave to work on revising his novel.
Nguyen bagged several awards for "The Sympathizer," including the Pulitzer Prize for Fiction, the Edgar Award for Best First Novel, the Andrew Carnegie Medal for Excellence in Fiction and the Center for Fiction First Novel Prize. It also topped multiple  bestseller lists including the New York Times, The Guardian and The Wall Street Journal.
"The Sympathizer" raised a lot of important and controversial issues, but above it all, he wants his readers to realize that:
"War is a universal experience that has been with us for a very long time, and will continue to be with us if we don't recognize our innate capacity to be inhuman."