LA Writers Reading Series Welcomes Renowned Author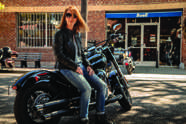 The Los Angeles Writers Reading Series featured author and Glendale Community College alumni Bernadette Murphy on Monday at the JW Student Center.
Murphy, a former book critic for the Los Angeles Times and associate professor of creative writing at Antioch University in Culver City, read to students and faculty from her recent memoir, "Harley and Me."
"Harley and Me" focuses on Murphy's experience learning to ride a motorcycle at age 48. Themes of the book center around risk-taking, conquering fear, the role of women in modern society and family loss.
"I love the feeling of fear that thrums in my ribcage," Murphy read to the audience, "too much of my life has been eaten up by fear, too many opportunities missed, worried about how it might look or whose feelings I might hurt or how difficult something might be. I am at that place in my life when that standoff looms. Me or the fear, one of us is going to win out and the other will be vanquished."
She discovered her passion for writing at GCC, which she attended in the '80s, majoring in dance and marine biology. She went on to receive a bachelor's degree in journalism with a minor in english literature at CalState Northridge and a master's in fine arts creative writing at Antioch, Los Angeles. She even taught freshman composition for one term here at GCC.
In "Harley and Me," Murphy doesn't shy away from challenging the status quo. She embraces herself as the unanticipated heroine of her own story, defying stereotypes against women.
"We're starting to see a culture that accepts women going out and having adventures. But, I think culturally we're discouraged from doing so," said Murphy, when discussing why she believes there are too few heroines written about in pop culture. "When we think of the hero's journey, we think of the male form of [it]. The heroine story is often different; it involves seeking inside the self."
Students and faculty filled the student center to listen to Murphy speak. Many had questions for her. Students asked advice on ways to approach essay writing, some wondered what her next adventure would be or the craziest adventure she ever took.
Claire Phillips, founder and director of the LA Writers Reading Series, created the event to celebrate the diversity of Los Angeles writing. Past attendees have included world-renowned authors such as Janet Fitch "White Oleander," and James Ellroy "L.A. Confidential."
With the recent decrease in bookstores such as Barnes & Noble and Borders, "We need programs where authors can connect with readers,"Phillips said, "Students become better literary citizens through these events. They are able to engage in discussions with authors on a variety of topics: creative nonfiction, fantastic writing, noir and so forth."
Phillips remarked that some students even felt compelled to major in English after sitting in on the event.
"I have come to see students love writing that is challenging, bold, forthright and evocative," she said.
Kate Martin Rowe, an adjunct English professor at GCC, who has helped with the writer's series the past three years, said that by being able to engage with the authors in person, students get to "see the writing come alive."
"I know in my classes I always want to talk about things that are really relevant to everybody's lives and help them see even if they don't like writing themselves," Rowe said. "Ideas, arguments and the world around us is very rich and interesting and writing is one way of engaging with that."
Next in line to speak is Bruce Bauman, author and professor in the CalArts master of fine arts creative writing program. He will be reading excerpts from his recent novel, "Broken Sleep."
The event will be held Oct. 28.