Cleaning Up the River: Scholars Lend a Hand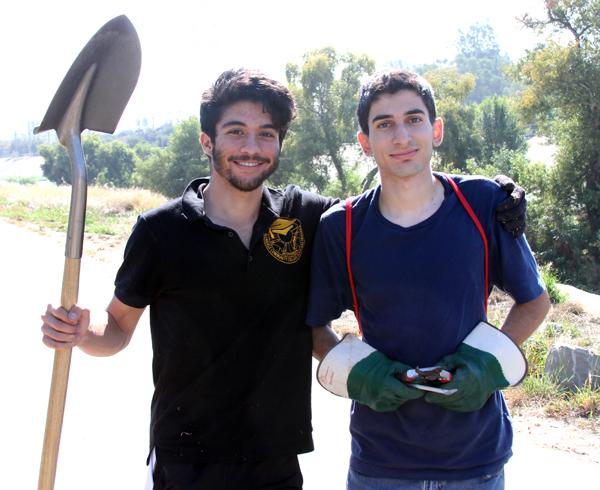 Cutbacks have caused most of the maintenance of the Los Angeles river to become a job for volunteers, who tackle the cleanup in five-hour shifts every month at the Glendale Narrows Riverwalk.
The City of Glendale Community Services and Parks Department organized a volunteer work day along the river to clean up and make the area healthy again. While the area is already technically a park it doesn't look like one, so the city put together the work day to make the look match the name.
This past Saturday volunteers started at 8 a.m. clearing  branches and invasive, non-native plants that can strangle existing plants. They continued to also clean and take care of the bicycle path that runs along the river.
"It's perfect for scout groups, clubs, and church groups,"  Jeff Weinstein, a supervisor of the project said. "A lot of people want to give back to the community."
Weinstein also said that there were about 25 students who came and helped, from different schools, including some from GCC's own Scholars Program.
Issa Al Hadeed, the community service director for the Scholars Program, said there are four service projects they do year-round, the Riverwalk being one for the last two years.
Patrick Haroutunian, a volunteer from the Scholars program, said his favorite part of working there is "being outdoors and the overall feeling of cleaning the place, helping other plants and the bike trail."
The cleanup is no short-term project. They are currently in phase two of a five- phase plan. Phase three is building a bridge from the river to Griffith park.
The work day is on the first Saturday of every month excluding  holidays. It  is located at 300 Paula Ave. with the next one being held on Oct. 8, with exception of Oct. 1  in observance of Rosh Hashana.   Snacks, water and work gloves are provided, but volunteers are urged to bring their own.
Volunteers are asked to sign a waiver before working.