Not Your Typical Cafeteria Food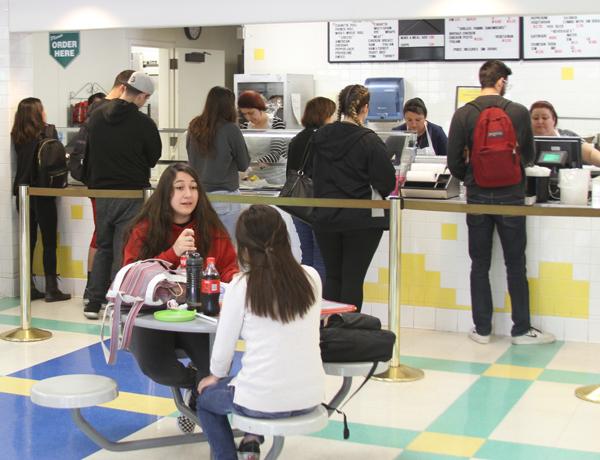 Nancy Jordan is on a mission. As head of Glendale College food service she has overseen a number of recent changes that brought large improvements in health, variety and quality to GCC cafes. Though she has many more changes planned, not all students know the cafeterias exist.
"I want to add signage … some people don't even know we're here," said Jordan, who took the post eight years ago and also teaches CULIN 111: Fundamentals of Professional Cooking I and 122: International Cooking. "The whole cafeteria food service model has changed dramatically from maybe 15 years ago … people are looking for healthier options … for more variety of food."
Jordan has delivered on both of those promises. Upstairs Grill, Emma's Deli and CJ's Convenience Store offer a new array of healthy options, many not easily found around town. Ninety percent of the Grill's soups are made in-house (not from freeze-dried packages) and Jordan said they are huge sellers. The other 10 percent are ordered pre-made from U.S. Foods.
Grab-and-go items now include a vegan tofu sandwich, tofu and brown rice, fruit, organic soy milk, Smart Start cereal and multiple brands of Greek yogurt.
Emma's Deli, located below the Upstairs Grill, at first appears to look like Subway, but unlike the fast-food chain Emma's makes its own tuna salad right in front of customers and offers four bread options: whole grain, wheat, rye and ciabatta.
The Roots and Fruits Smoothie Bar, added last year, uses real fruit instead of frozen mixes, with popular health additives like chia, wheat germ and protein.
CJ's convenient store now stocks Bai5 Antioxidant drinks, Oi Ocha green tea, avocado oil kettle chips and gluten-free sweet plantain chips from Peru.
Jordan has a personal aversion to the big, popular energy drinks like Monster and Rockstar, and dried soup meals like Cup o' Noodles. "The amount of sodium is outrageous," she said, but as long as there is a demand, she'll keep them stocked.  "I have an entire student body to feed, and not all gravitate toward healthy stuff."
For those students going for taste, GCC still delivers traditional favorites. French fries, French toast and breakfast burritos take the top spots in a quick eater survey — honorable mentions being pizza and tostadas. Jordan notes that her rotating soup menu, hot dog of the week, and pizza of the month are all gaining in popularity.
These gains in quality and variety, however, have come amid lingering challenges. The Upstairs Grill was renovated in 2012 to improve the flow of customers through the line. "But crowds still happen at peak times," Jordan said.
She bemoans the cushions coming off some of the booths, lack of available seating and bad acoustics. English student Patrick Makaradi said he comes to the Upstairs Grill about twice a week to eat and read. He raves about the French toast, but admits he almost always has to stop reading because of the noise.
Acoustics and decor are two areas where GCC suffers against its crosstown rival, Pasadena City College.  Well-funded designers have made PCC's main cafe look like an Italian courtyard and aptly named it The Piazza.  The interior is new and clean. Its high ceilings with soft wood make acoustics quiet enough to read, which almost all patrons do.  But that is where PCC's advantages end.
Customers at the Upstairs Grill have natural light and a breathtaking view of the Glendale mountains, a detail not lost on Jordan.  When asked what changes she'd make if money were no object, she dreams whimsically of knocking down walls and making the cafes open-air.
Customers agree, including nursing student Jackie Santana.  "That's a great idea," she says. "It would feel like we were outside, but with no wind to mess up papers."
Jordan envisions an open-air downstairs that would better connect food service with student life.
GCC's legacy of warm service also beats the competition. Service upstairs and downstairs is always with a smile. Most employees are trained students and a majority of the full-time employees have been with GCC for decades.
Upstairs cashier Gladis Rodriguez celebrates her 30th anniversary with GCC this September. Interacting with the students is her favorite part of the job, she said. "I thank God I'm not working in a convalescent hospital," where she'd be if not for the Upstairs Grill.  Rodriguez, like other employees, has a warm, natural smile.
Advances in variety and health options are only just beginning.  Jordan regularly scans periodicals on new products and what is selling in Southern California.  "We're increasingly catering to a vegetarian crowd and a gluten-free crowd," she said. "The gluten-free products are getting better."
The gluten-free bread did not sell well last year, so she got rid of it. However, the corned beef and cabbage for St. Patrick's Day garnered rave reviews. "Then I thought, 'what would be the reaction to a fried green tomato sandwich?'" It too was a huge hit.
The only things slowing Nancy's vision are business and budgetary challenges. Her assistant recently moved on, causing a hiccup in GCC food's social media presence and forcing Jordan to write her own budget by the end of the month. The menus are still distributed to faculty and college staff  via email, from which she claims the most helpful feedback comes.
Regardless of the challenges, patrons are generally satisfied with the selection at GCC. Santana again noted, "I haven't eaten anything I didn't like. Honestly, I was surprised when I saw the food here, I thought it was going to be crappy high school food."
This type of feedback, good or bad, is music to Jordan's ears. She yearns for more comments, specifically from students, on how she's doing and what types of items they want to see.
"It's hard work, it's not easy, but it's very rewarding," she said. "There's nothing better than someone coming up to you and saying 'that was really good."
To provide feedback on your GCC cafeteria experience, send an email to [email protected].